Wonder Woman and James Bond Are Back in Action! Here's the Scoop on 20 Big Movies in 2020
Published on January 2, 2020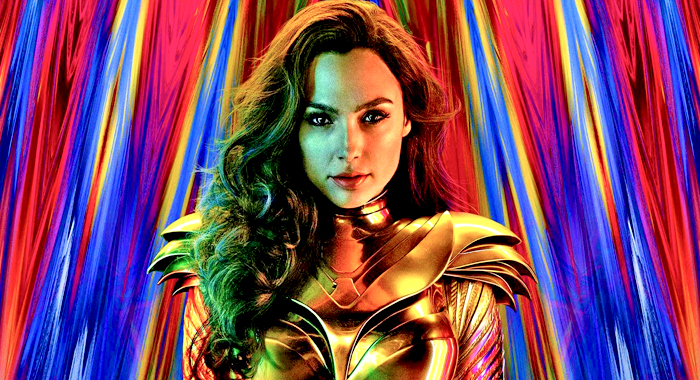 Hey, remember your New Year's resolution to be outside more and exercise? Well this is your annual reminder that staying indoors to watch great movies has its benefits too. If you loved that the Cineplex was steeped in '90s nostalgia in 2019, consider that the 2020 lineup travels even farther back. By year's end, you'll see long-awaited follow-ups to '80s favorites Top Gun (June), Ghostbusters (July) Bill & Ted's Excellent Adventure (August) and Coming to America (December). Not even Wonder Woman herself can resist the power of 1984, while Mulan, Harley Quinn and Black Widow are in a time dimension of their own. There will be singing and dancing and Robert Pattinson in a role that has nothing to do with Batman. And just for good measure, two former Batmans pop up too. Here's a sneak peek at 20 movies in '20 that will leave you shaken and stirred.
Dolittle
From Iron-Man to animal whisperer(?!) Robert Downey Jr.'s first post-Marvel project is an adventurous re-imagining of the classic tale of Dr. Dolittle. In this version — which seems decidedly less silly that the Eddie Murphy franchise from the 90s — the famed vet sets sail to a mythical island to find a cure for a young queen (Jessie Buckley). The coterie of CGI'ed creatures include Rami Malek (gorilla), John Cena (polar bear) and Octavia Spencer (duck). (In theaters Friday, January 17)
Miss Americana  
Taylor Swift herself broke the news about this documentary when she released that social media statement about her ongoing feud Scooter Braun and Scott Borchetta regarding her master recordings. Per the press release, fans will get to see "a raw and emotionally revealing look at one of the most iconic artist of our time during a transformational period in her life." But will we hear her greatest hits? Stay tuned. (On Netflix TBA; premiering January 23 at the Sundance Film Festival).
Birds of Prey: And the Fantabulous Emancipation of One Harley Quinn
Margot Robbie's perky psycho clown-faced killer Harley Quinn was the only redeeming quality of 2015's Suicide Squad.No wonder she's dropped those guys (plus her boyfriend the Joker) in favor of her own girl squad. In this DC Comics spin-off, she collides with the Birds of Prey (Jurnee Smollett-Bell, Rosie Perez, Mary Elizabeth Winstead) to defeat the evil crime lord and super-thief Black Mask (Ewan McGregor). (In theaters Friday, February 7)
To All the Boys 2: P.S. I Still Love You
Dear Netflix: Thank you for reviving the rom-com. We totally appreciate it. P.S. Please don't screw up this follow-up to one of the most adorable entries in recent years. It does look fun, as Lara Jean (Lana Condor) and Peter (Noah Centineo) trying to navigate their first year as a real-deal couple. Enter good-hearted John Ambrose (Jordan Fisher) and a potential love triangle. (On Netflix on Wednesday, February 12)
The Invisible Man
Details are sketchy for this remake of a horror classic that's been kicking around for years and was originally supposed to star Johnny Depp. Here's what I got: Elisabeth Moss is Cecilia, a woman trapped in abusive relationship with a genius scientist (Oliver Jackson-Cohen). She manages to escape his grip and go into hiding. He commits suicide — or did he. Now she must convince everyone that she's in danger from a person that can't be seen. If anyone can pull this off, it's Moss. (In theaters Friday, February 28)
The Way Back
Good for Ben Affleck for taking off the Batman mask and getting real in an understated drama. He plays a hard-living, hard-drinking construction work years past his glory days. He gets a shot at redemption when he's asked to coach a local high-school basketball team. You can tell from the title that he'll end the movie a better man than he is at the start. The in-between what intrigues. (In theaters Friday, March 6)
A Quiet Place: Part II
Get you shhhhhh together! Now the Abbott family (led by fierce mama Emily Blunt) and a stranger (Cillian Murphy) fight for survival against the mysterious creatures that hunt and kill by sound. John Krasinski returns to direct and wrote the screenplay — but he will not be part of the onscreen frightening fun, as he died to save his kids the 2018 original. See what happens when you decide to kill yourself off in a hit movie? (In theaters Friday, March 20)
Mulan
The latest animated Disney movie to get the live-screen treatment is a fantasy-adventure that doesn't come equipped with overly cutesy songs. To save her ailing father from serving in the Imperial Army, fearless Mulan (Liu Yifei) disguises herself as a man to battle Northern invaders in China. This iteration promises to be a bit more grounded than its 1998 counterpart, and not just because Mushu the talking dragon has gone poof. (In theaters Friday, March 27)
No Time to Die
Bond, James Bond, returns for his 25th movie. It's also the last installment for Craig, Daniel Craig. Plot: The retired secret agent gets called back into action to rescue a kidnapped scientist, which leads him to a dangerous bad guy (Rami Malek) armed with new technology. In the trailer, Bond is trapped under ice and withstands a barrage of gunfire in his bullet-proof Aston Martin. Spoiler: He'll be fine. (In theaters Friday, April 8)
Black Widow
When we last saw MCU superheroine Black Widow (Scarlett Johansson) in Avengers: End Game, she was falling to her death. But enough of that, it's prequel time! Set between Captain America: Civil War and Avengers: Infinity war, the story will fill in some gaps in Natasha Romanoff's timeline as she returns to Europe to confront the shady group that molded her into an assassin. She'll also ret-team with two other agents (Florence Pugh and Rachel Weisz). (In theaters Friday, April 1).
Wonder Woman 1984
"Nothing good is born from lies and greatness is not what you think," our heroine (Gal Gadot) implores in the film's first teaser. But enough about Aquaman. (Kidding!) In this sequel — which, yes, is set in the decade of excess — the fearless Wonder Woman squares off against Cheetah (Kristen Wiig), a villainess who possesses superhuman strength and speed. Chris Pine, as Steve Trevor, returns as well. (In theaters Friday, June 5)
In the Heights
Before Lin-Manuel Miranda created Hamilton, he delivered In the Heights. Now the 2008 Broadway musical is getting its shot on the big screen. It follows a bodega owner (Anthony Ramos) in New York's Washington Heights neighborhood, who, after gaining an inheritance, is conflicted about giving up his life and returning to the Dominican Republic. Miranda himself will play the scrappy owner of a Piragua (i.e., shaved ice cream) stand known as the "Piragua Guy." (In theaters Friday, June 26)
Top Gun 2: Maverick
Will the sequel to the 1986 blockbuster take your breath away or just fall into the danger zone? If that dumb pun is lost on you, then keep moving. Tom Cruise returns as Pete "Maverick" Mitchell, still flashing that smile and wearing those Ray-Bans. A dying breed in the military, he now mentors a whole new group of U.S. Navy pilots (including Miles Teller). Val Kilmer as Ice Man is back too; Kelly McGillis as civilian instructor/love interest Charlie is not. (In theaters Friday, June 26)
Ghostbusters: Afterlife
Calling all Ghostbusters fans who have been waiting for a proper follow-up in the wake of the middling all-female reboot: Your ride is here. Directed Jason Reitman (son of original helmer Ivan Reitman) and featuring cameos from your old favorites, the movie revolves around a mom (Carrie Coon) and her kids (Mckenna Grace and Finn Wolfhard) who move to Oklahoma and begin to discover their origins to the ghostbusting business. Stay Puft forever! (In theaters Friday, July 10)
Tenet
When it comes to moviemakers who craft twisty original stories, few compare to the great Christopher Nolan (Inception, Interstellar, Memento). The latest hush-hush project from the Oscar-nominated director is an action epic evolving from the world of international espionage and apparently his most expensive production to date. Oh, and Robert Pattinson and John David Washington (BlackKklansman) star. Is it July yet? (In theaters Friday, July 17)
The Many Saints of Newark
Otherwise known as The Sopranos origin story. Set amid the 1967 Newark riots, the story offers a glimpse at the formative years of future New Jersey mob boss Tony Soprano. The drama stars Alessandro Nivola (as the dad of Michael Imperioli's Christopher Moltisanti character), Jon Bernthal and Vera Farmiga — while Michael Gandolfini, the teen son of the late star James Gandolfini, will play a younger version of Tony. Perfect. (In theaters Friday, September 25)
Eternals
Ten new characters are about to join the Marvel Cinematic Universe. They're called Eternals and despite their human-looking appearance, they're immortal. (It's apparently a long, hopefully not-too-convoluted story.) Per studio honcho Kevin Feige, the film will take place over 7,000 years as the characters go to different periods in time. Your loaded cast includes Angelina Jolie, Gemma Chan, Richard Madden, Kit Harrington, Brian Tyree Henry, Salma Hayek and an extremely jacked Kumail Nanjiani. (In theaters Friday, November 6)
King Richard
Will Smith stands in center court for this biopic about Richard Williams, i.e., the tenacious and hard-charging father of tennis royalty Venus and Serena Williams. It's certainly a tale for the history books: Despite no tennis background and financial hardships, Richard gave his young daughters lessons on the rundown courts in Compton, California. Needless to say, he also delivered tough love. (In theaters Wednesday, November 25)
West Side Story
"Somewhere." "America." "Cool." These are some of the tunes you'll hear in director Steven Spielberg's adaptation of the classic 1957 musical. A couple (Ansel Elgort and newcomer Rachel Zegler) from different ethnic backgrounds are torn apart as the rivalry between the Jets and the Sharks gangs heat up on the streets of New York City. Fun fact: Rita Moreno (One Day at a Time), who won a Tony and Oscar for playing Anita in the original productions, will also appear. Cool, indeed.  (In theaters Friday, December 18)