Angelina fights! Joker frights! Mr. Rogers Delights! Here's the Scoop on 20 Fall Movies
Published on September 3, 2019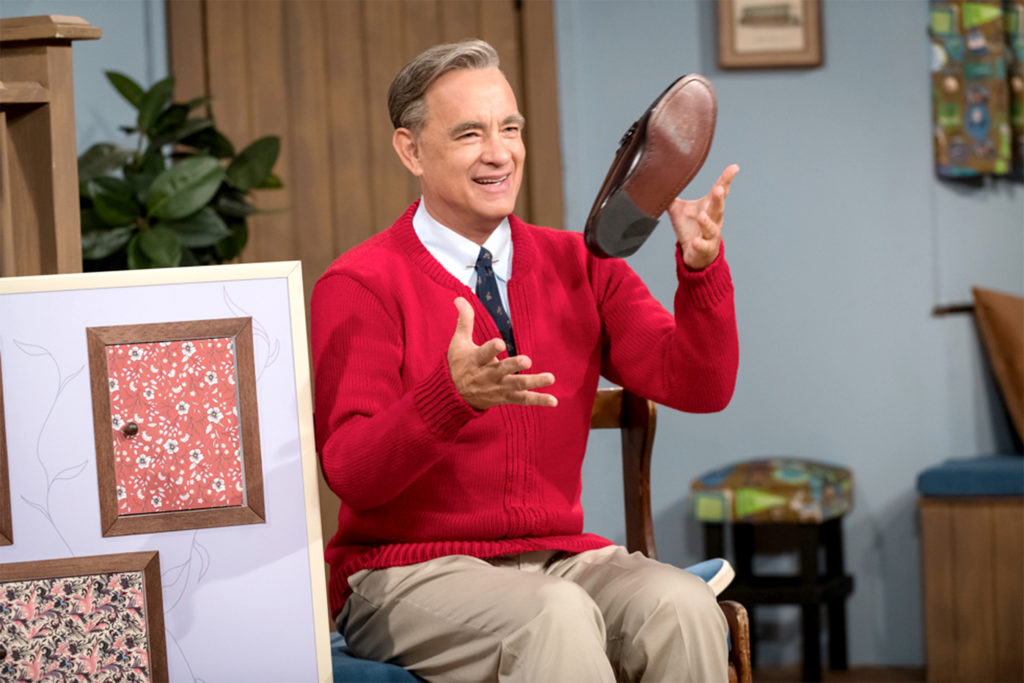 Brad Pitt. Will Smith. Tom Hanks. Chris Evans. Scarlett Johansson. If you loved these actors in the class of '19 summer movies — and judging by the box-office numbers, you did! — then hold on to your popcorn: They're all back in business and on the screen during the most wonderful time of the year. Welcome to fall, when your cinema brain switches back on so you can embrace the sob stories, gritty family drama and gasp-inducing twists that generate awards buzz. And want to know what's better than awards buzz? NOTHING. Here's the rundown on 20 of the most intriguing fall movie picks. And don't worry: By Thanksgiving, you'll have fully repressed Men in Black. Enjoy the change of scenery!
The Goldfinch
The Story Theodore is just 13 years old when he witnesses his mother's death in a terrorist bombing at the Metropolitan Museum of Art in New York. Amid the tragedy, he swipes a painting from the scene and carries it with him as he gets older.
The Buzz Donna Tarte's time-and-place-spanning 2014 Pulitzer Prize-winning novel was un-put-down-able, even though it was 784 pages and would have made a lovely doorstop. (This is what I've heard, anyway. I was too intimated to pick it up.) This adaptation looks like it has the goods — especially with a cast that includes Ansel Elgort (as adult Theo), Nicole Kidman, Sarah Paulson, Luke Wilson and Stranger Things' Finn Wolfhard.
In theaters Friday, September 13
Hustlers
The Story A crew of savvy former New York City strip-club staffers band together to turn the tables on their Wall Street clients. One Jennifer Lopez is the ring-leader; Cardi B., Lili Reinhart, Lizzo and Constance Wu are the partners in crime.
The Buzz This must be what all those Comic-Con geeks felt like in the weeks leading up to Avengers: End Game. I say that with love. Bring on the sleaze and cheese with ease!
In theaters Friday, September 13
Downton Abbey
The Story Four years after the acclaimed PBS drama left us, the Crawleys (Elizabeth McGovern, Hugh Bonneville, Michelle Dockery) and their servants are getting the big-screen treatment. The plot picks up in 1927, as everyone in Downton prepares for a visit from King George V and Queen Mary.
The Buzz Surely Dame Maggie Smith's Countess Dowager would approve of the promotion. Still, it's unclear if the Abbey antics will appeal to the common folk that didn't tune in to the original iteration.
In theaters Friday, September 20
Ad Astra
The Story Brad Pitt plays an astronaut traveling to the outer reaches of the galaxy to find his missing renegade scientist father (Tommy Lee Jones). Um, this is not based on a true story.
The Buzz For the past several autumns, a truly fantastic sci-fi entry has rattled our minds and bodies. Think The Martian, Gravity, First Man, Arrival  and Interstellar. Well, maybe not so much the last one. The pressure is on for this much-delayed, much-anticipated drama, which is said to feature astounding scenes of space exploration. Also, Brad Pitt!
In theaters Friday, September 20
Judy
The Story This biopic on legendary singer/actress Judy Garland hones in on 1968, the year before she accidentally overdosed and 30 years after she played Dorothy in The Wizard of Oz. That's Renee Zellweger in the title role.
The Buzz We already know the talented Oscar winner has some razzle-dazzle vocal pipes. (Duh, that's a Chicago reference.) But can Bridget Jones really take us Somewhere Over the Rainbow?
In theaters Friday, September 27
Joker
The Story Now it's Joaquin Phoenix's turn to paint his face and strap on a diabolical smile. In this origin story of the iconic DC Comics villain, he's a failed comic that encounters thugs while wandering Gotham City dressed as a clown.
The Buzz Why so serious? Because with primo slots at the Venice and Toronto International Film Festivals, this drama is positioning itself as a gritty awards-worthy character study of a tormented lost soul. And Phoenix always makes things interesting.
In theaters Friday, October 4
Lucy in the Sky  
The Story An astronaut (Natalie Portman) returns to Earth from space and starts to lose touch with reality while beginning an affair with a fellow space-traveler (Jon Hamm). It's inspired by the real-life saga of Lisa Nowak, who drove 900 miles wearing diapers in an attempt to kidnap her ex-lover's new partner in 2007.
The Buzz In space-pun terms, out of this world. Its first-weekend-in-October release date is historically primo real-estate for films with Oscar aspirations. (I'm talking A Star Is Born, Gone Girl, Argo and Birdman, to name a few recent occupants.) If nothing else, the premise sounds positively bonkers.
In theaters Friday, October 4
Jexi
The Story Poor shlubby Phil (Adam Devine) has a toxic, obsessive relationship with . . . his phone. His life begins to change after he upgrades to a new model, which comes equipped with an A.I. life coach and cheerleader named Jexi (the voice of Rose Byrne). All is fab — until she becomes a malware nightmare.

The Buzz It ain't Her. Still this dark comedy has the potential to be the hilarious Black Mirror episode we never knew we wanted. Let's keep refreshing!
In theaters Friday, October 11 
Gemini Man
The Story Hello, trouble on the double. An elite assassin (Will Smith) is on the run from an operative who's a younger and faster cloned version of himself. As we learned from Us, this can't lead anywhere good.
The Buzz This thriller is ripe with technological wonder, as the younger version of Smith is a CGI digital recreation. If anyone can pull off the feat, it's Oscar-winning, Life of Pi director Ang Lee. And if Smith can recreate the Genie from Aladdin and not make us long for Robin Williams, he can do this . . . right?
In theaters Friday, October 11
Maleficent: Mistress of Evil
The Story Angelina Jolie once again goes dark as a sinister horned fairy. But not too dark — this is still a Disney movie! Like the original, she's at odds with soon-to-be-Queen Aurora (Elle Fanning).
The Buzz Maleficent 1.0 was a hit in 2014, though I defy you to recall one single scene from it. If nothing else, it's always fun to see a game Jolie entertain the PG set.
In theaters Friday, October 18
Jojo Rabbit
The StoryA 10-year-old boy (Roman Griffin Davis) living in Hitler's fascist regime is unable to understand and deal with the realities of his situation. Enter an imaginary friend. Scarlett Johansson plays his mother.
The Buzz This wild child is courtesy of director Taika Waititi (Thor: Ragnarok, Hunt for the Wilderpeople), who (hopefully) brings his humor and pathos to the World War II-set satire. The final product could either be a daring breakthrough or spectacular fail. But it won't bore.
In theaters Friday, October 18
Terminator: Dark Fate
The Story The eternally fierce Sarah Connor (Linda Hamilton)(!) and her son John (Edward Furlong)(!!) are back to aid a new resistance. Arnold Schwarzenegger returns as well. BTW, this is a direct follow-up to the 1991 smash T2: Judgment Day, so forget those soulless follow-ups with Claire Danes and Christian Bale ever happened.
The Buzz One on metallic cyborg hand, Terminator 2 is one of the greatest sequels in movie history and this installment has the blessing of producer (and original director) James Cameron. On the other, this franchise hasn't been culturally relevant since oversized flannel and Doc Martens were in fashion. Draw?
In theaters Friday, November 1
Marriage Story
The Story A couple (Adam Driver, Scarlett Johansson) entrenched in the New York City theater scene learn how to cope with and without each other as they navigate their divorce.
The Buzz I caught an early screening of this wonderful and poignant gem, and I'm still ruminating on it. (To be sure, this is always a promising sign). Both stars empty their tanks as they give emotionally layered, career-best performances. Bonus: Laura Dern is in full-on Renata Klein mode as a well-heeled divorce lawyer.
In theaters Wednesday, November 6; on Netflix December 6
Last Christmas
The Story Kate (Emilia Clarke) has lofty dreams but must resign herself to taking a job as an elf in a Christmas shop. Then she meets a dashing guy (Henry Golding), and the magic of mistletoes happen.
The Buzz Thanks to endless viewings of Love, Actually, we already know London is the ideal setting for a holiday romance. No wonder this comedy, penned by Oscar-winning screenwriter (it's true!) Emma Thompson and directed by Bridesmaids' Paul Feig, is poised to be an instant crowd-pleaser. Note: No Mariah Carey singalong here; the movie is based on the classic Wham! track from 1984.
In theaters Friday, November 8
Charlie's Angels
The StoryA new trio of crime-fighters — played by Kristen Stewart, Aladdin's Naomi Scott and Ella Balinka — are here to save the day. Actual plot is totally secondary.
The Buzz Almost two decades have passed since Drew Barrymore, Cameron Diaz and Lucy Liu became independent woman in the first adaptation of the popular and rather groundbreaking ABC series. This touch-up amps up the girl power to the nth degree, with Elizabeth Banks writing, directing and playing sidekick Bosley.
In theaters Friday, November 15
Ford v Ferrari
The Story Let's reverse it to the 1966 Hours of Le Mans race in France, where an American car designer (Matt Damon) builds a car from scratch so Henry Ford II can challenge his rival, Ferrari. Christian Bale is in the driver's seat.
The Buzz Yeah, that set-up probably isn't revving your engines. But keep in mind that Bale and Damon never do anything (or go anywhere) half-way. This prestige title should be no exception.
In theaters Friday, November 15
Frozen 2
The Story Elsa the Snow Queen (Idina Menzel) and her devoted sister Anna (Kristen Bell) — along with their pals, Olaf the snowman and reindeer-handler Sven — embark on a journey in which Elsa must rise to the occasion with her powers. You better believe they will sing (and possibly build a snowman?) along the way.
The Buzz You don't have to be a 10-year-old girl to be excited about this follow-up to the $1.2-billion-grossing mega-hit. The only real mystery is how many musical numbers will be stuck in our heads for the rest of our lives. Let it snow! Let it snoooooow
In theaters Friday, November 22
A Beautiful Day in the Neighborhood
The Story A cynical journalist (Matthew Rhys) is assigned to profile beloved children's TV host Fred Rogers (Tom Hanks, obviously) circa 1998. They end up becoming close friends and then [can't finish sentence due to tears streaming down my face just thinking about the third act].
The Buzz No big deal, just that this drama — from Can You Ever Forgive Me? director Marielle Heller — has all the makings of life-affirming, sun-shining perfection.
In theaters Friday, November 22
Knives Out
The Story After a wealthy patriarch (Christopher Plummer) is found dead at his 85th birthday party, two detectives (Daniel Craig, LaKeith Stanfield) investigate the case. Then things take a turn for the crazy-scary. Chris Evans is a foul-mouthed member of the family.
The Buzz Whodunnit? Let's find out in this star-studded mystery written and directed by Rian Johnson (Star Wars: The Last Jedi). Gotta love that Jamie Lee "Halloween" Curtis is part of the ensemble.
In theaters Wednesday, November 27
Queen & Slim
The Story An Ohio couple (Get Out's Daniel Kaluuya and newcomer Jodie Turner-Smith) are on their first date when they're forced to go on the run, Beyonce and Jay-Z-style, because of an escalating situation with the police.
The Buzz The heart-pounding romantic drama (and romantic trauma?), written by Emmy winner Lena Waithe, is poised to be a Bonnie and Clyde for the moment.
In theaters Wednesday, November 27