'The Fabelmans' 'Armageddon Time' Lead Fall Oscar Releases
Published on November 8, 2022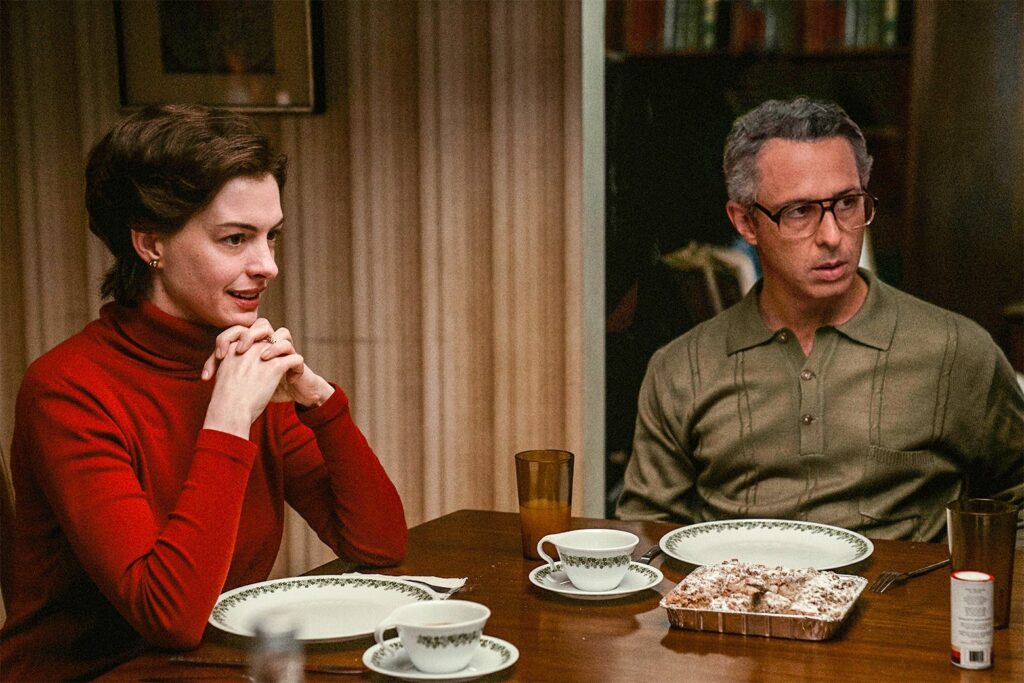 There's no official announcement or ceremony. But every year without fail— think when pumpkin spice latte season is in full swing—movie lovers start to hear the buzz around all the new films about to hit big (and small!) screens. For those hoping to get an Oscar nod, the fall timing is strategic: Coming off prestigious festivals in Venice, Telluride, Toronto and New York, it's to a movie's advantage to come out in the last few months of the year so it can really have a presence. The tradition dates back to the late 1980s with pedigreed offerings such as Working Girl, Rain Man and Driving Miss Daisy all dropping at the end of the year — i.e., when people are in awards mode and really thinking about what they're going to vote for. Take my word for it. Plus, those of us who're aren't voting members of the Academy are just happy to have some blockbuster movie choices. (No, the low-rent Black Adam doesn't count. But I'll give you Black Panther: Wakanda Forever.) Check out these prime choices.
The Fabelmans
3.5 stars (out of 4)
It's a rare treat for director Steven Spielberg to phone home on one of his projects. And in this emotional and magnificently crafted opus — which traces his formative years right up through the starting gate of his amazing career — he connects big time. Plot: Young aspiring filmmaker Sammy (Gabriel LaBelle) copes with troubling family secrets and upheaval in post-War America by escaping into the power of movies. A dazzling Michelle Williams and Paul Dano play the stand-ins for Spielberg's mismatched parents; Seth Rogen is a beloved uncle figure who tags along with the family from New Jersey to Arizona. The Fabelmans will eventually go to California too, where the Jewish Sammy struggles to fit in among the golden-haired jocks and girls in high school. His experience, however, culminates in a series of triumphant moments. Come Oscar time, expect even more. Just one note: For as much as I loved this movie, I wouldn't rank it in my all-time Top 5 Spielberg faves. It lags too much in the beginning. A slight knock.
Armageddon Time
3.5 stars (out of 4)
FYI, this is not a science-fiction work set in outer-space with deep existential themes. In fact, its down-to-Earth relatability and poignancy is what make it so special. Inspired by writer-director James Gray's upbringing in 1980s New York City, it loosely follows a creative teen named Paul (Banks Repeta) struggling to find his place at a posh private school. A nuanced Anne Hathaway and Jeremy Strong play his put-upon parents; Anthony Hopkins steals every scene as the wise family patriarch. What this film does best is explore adult issues — the privilege of wealth and beauty, the pain of death and trauma — through the eyes of an impressionable youth. (Paul's friendship with a troubled Black classmate prompts turmoil in his household.) And with a title that actually alludes to the country's volatile socio-political era, this coming-of-age tale ends up striking home in unexpected ways. Indeed, Paul's childhood ends at seemingly the exact moment his artistry begins. (Now in theaters)
Causeway
3 stars (out of 4)
Jennifer Lawrence is such an A-list powerhouse now that it's hard to remember that she got her start in low-maintenance indie winners like Winter's Bone. She returns to her roots in this small but genuinely moving character study. Her Lynsey is an introverted Army Corps engineer returning to her New Orleans hometown from Afghanistan due to an in-combat head injury. Every move is a physical and emotional struggle . . . until she has a chance encounter with a man dealing with his own wounds. He's played by the great Brian Tyree Henry (Atlanta), and as soon as he enters the picture, the film's downbeat tone changes for the brighter and better. Together, the two tentatively form a deep friendship as they help each other recover on every level. There's no tidy redemption in store — and no, the two most definitely do not fall in love. (A fleeting kiss doesn't count.) There's just a fulfilling message of hope, which is more than enough. (Now Streaming on Apple TV+)
Ticket to Paradise
3 stars (out of 4)
Don't look now, but the sun is setting on glossy star-driven romantic comedies. So while this entry is flawed, you should pay a visit anyway. Come to think of it, who wouldn't want to go to Bali with George Clooney and Julia Roberts? They play squabbling exes unable to stand the sight of each other. Upon learning that their vacationing, just-graduated daughter (Kaitlyn Dever) has fallen in love with a local seaweed farmer (Maxime Bouttier) and plans to elope, the pair unite in a bid to stop the nuptials. If you've watched the trailer, then you've already seen the plot in action. Yes, they decide to swipe the rings and get caught . . .  only for Clooney to insist that it was Roberts' idea. Not that spoilers matter: The entire narrative is telegraphed from the opening moments, as are the parents-don't-always-know-best! zingers. (That said, this girl is legit way too young to settle down. It made me furious that her parents didn't call her out on this.) And yet the two A-listers are so magnetic and irresistible — not to mention still totally gorgeous — that they single-handedly elevate the formulaic material. Their effortless chemistry is the reason the film goes down as smoothly as an island Mai Tai. Enjoy the view. (Now in theaters)
Till
3 stars (out of 4)
Fourteen-year-old Emmitt Till's lynching in 1955 was a pivotal yet tragic chapter in the Civil Rights Movement. This heart-wrenching drama — which recently played at the New York Film Festival — focuses on his mother, Mamie Till-Mobley (the outstanding Danielle Deadwyler), and her fight for justice. The events are chronicled from the very beginning, as the gregarious Emmitt "Bobo" Till (Jalyn Hall) sets off with his relatives from Chicago to the highly segregated Mississippi Delta. After a miscommunication with a White female shopkeeper (Haley Bennett), he's kidnapped in the middle of the night and subsequently killed. None of the above is easy to watch — but it's important to keep your eyes open for what happens next. As Emmett's devoted single mother, Deadwyler's Mamie is unrelenting in educating the world on racism and equality. She insists that her son's mutilated body be photographed for a magazine cover and shows her heart and soul on the stand during the killers' trial. Difficult subject matter aside, her reckoning is an unforgettable lesson in love. (Now in theaters)
My Policeman
2.5 stars (out of 4)
Harry Styles fans have already enjoyed an embarrassment of riches in 2022. Now prepare to hit the jackpot. In this tender (albeit a bit stuffy) romance, the star bares his soul and his body as one part of a complicated love triangle. The story, adapted from a 2012 novel, follows Styles' Tom, a closeted policeman, in a seaside England town circa 1957. Because it was illegal to be gay there at the time, Tom begins to date and eventually weds a schoolteacher named Marion (Emma Corrin) — while also carrying on a secret affair with Patrick (David Dawson), a museum curator. Forty years later, the highly improbable marriage becomes even more fraught as Patrick returns to their lives after suffering a stroke. Though the narrative toggles between the 1950s and 90s with two sets of actors taking on the three main roles, there's a reason why Styles' name is top-billed the opening credits. The star ably carries all of Tom's repressed anxiety and is aptly described as "innocence combined with curiosity." What a shame the movie itself is more long-winded clichéd melodrama than yearning melancholy. It takes far too long to arrive to that poignant ending. (Now streaming on Amazon Prime)
Amsterdam
2 stars (out of 4)
This clunker is long out of theaters but still seared into my memory! What should have been a dazzling piece of screwball entertainment featuring a murderer's row of talent is instead a flat and convoluted miss. And that's despite the aforementioned murderer's row of talent! Start with Christian Bale, Margot Robbie and John David Washington as three American friends who meet during World War I, live it up in Amsterdam and make a pact to always be there for each other. Cut to 15-odd years later, when they're falsely accused of killing the daughter of a just-deceased general. (She's played by Taylor Swift in a so-swift cameo). In a bid to clear their names, they cross paths with everyone from a tycoon (Rami Malek, the stand-out) to a nurse mortician (Zoe Saldana). It takes a full hour to establish the story, which isn't as nimble as it should be and veers into tangents galore. (Mike Myers and Michael Shannon's officer characters constantly riff on birdwatching. How. Why.) In fact, don't even think of the film as a fun whodunit: This is essentially a frantic history lesson on 1930s-era stateside fascism with a few mild laughs scattered throughout the chaos. Seriously. There's also a lesson on the importance of kindness; keeping that credo in mind, kindly avoid and wait for the Knives Out sequel.