My Five Totally Crazy and Very True Celebrity Tales from the 2017 Film Festivals
Published on November 13, 2017
I try to be a professionally jaded journalist, I swear. I don't fawn over big stars or gush about movies just because I was fortunate enough to sit in the theater during its world premiere. Hello? I attended a whopping eight film festivals in 2017 — Sundance, South by Southwest, Tribeca, Cannes, Telluride, Toronto, New York and Savannah — and I only wrote extensively the actual films. A recap of that quietly provocative Swedish drama from Cannes? I'm your girl. I even raved over Angelina Jolie's social-issue refugee Netflix film and purposely neglected to mention she strolled on the street in Telluride with her kids. But this whole time, I've been itching to tell you my stories. I'm not talking about "I met Emma Stone after a Downsizing screening in Telluride and she was cool" stories. (Though I did and she was.) These are the semi-awkward, totally uncensored, unnecessarily detailed anecdotes that I've been keeping inside for months. Enjoy and don't judge.
Hi, R-Patz. I mean, Robert. I mean, Rob!
Savannah Film Festival – November 2017
R-Patz!!!!!!!!! ZOMG!!!!! All right, the truth is that I've always recoiled at the Twi-Hard phenom. I once wrote an essay for the Huffington Post expressing my disdain for the overwrought Twilight franchise.  [Redacted] read it and voiced a complaint to my boss at Us Weekly. Whatever. When I was assigned to interview Robert Pattinson in Savannah for Parade.com, I went in all business.
But when the actor walked in the small, nondescript room in the student library, I finally got it. "Is it Rob or Robert?" I inquired when he shook my hand. "Call me anything!" he replied, then added that he despises his tabloid nickname. Rob/Robert has a goofy high-pitched laugh and says the word "really" a lot. An anti-brooder, the actor does not give the impression that he considers himself a Serious Thespian. And much to my surprise, he has unabashed affection for the franchise that made him a tabloid staple. He was quite open about discussing its legacy. ("They didn't even try to market it to men!") Kristen Stewart's name was never uttered during the conversation, by the way. I wonder if they still talk. I bet not.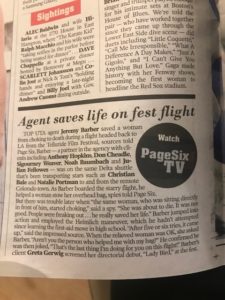 Is there a doctor (or an actress) on the plane?
Telluride Film Festival – September 2017
The Telluride Film Festival is laughably difficult travel destination because of its remote location in the mountains. Only a few airplanes go in and out of the closest airport a day, which is how I — along with many other industry folks — ended up on a flight back to LAX with Natalie Portman (in town to promote her documentary, Eating Animals) and two-time Oscar winning director Alejandro Innaritu (in town to moderate a panel). They sat in first class. I did not. But for a change, they missed out on all the drama.
Midway through the flight, there was a commotion in the row directly adjacent from my seat. A woman in the aisle was standing up, convulsing and unable to speak. She was either having a heart attack or choking to death on something from her fruit plate. People around me were shouting, begging for help. In this key fight-or-flight scenario, I chose to grab my friend's arm and shout, "Oh my god, oh my god!" (Uh-huh, I was a big help.) Even the flight attendants were panicked, unable to help. Gotta say, I was shocked at their ineptitude under extreme pressure.
Luckily — very very luckily – a man sitting behind us got up and successfully performed the Heimlich as if he were just grabbing a napkin off the drinks tray. Calm, cool, done. (Then the flight attendants rushed over with an oxygen mask to the still-shaken, red-faced passenger. They also brought the man a drink.) I'm not exaggerating: He saved her life. So who was this superman? A UTA Hollywood agent named Jeremy Barber. The savior story ended up in Page Six in the New York Post. I fully expect Portman to play the unidentified woman in the movie.
Excuse me, you're sitting on my wallet
Toronto International Film Festival – September 2017
Bryan D'Arcy James is a genuinely friendly, Tony-nominated Broadway star and an actor who's appeared in everything from Spotlight to Smash (yay, Smash!). He also has a delightful supporting turn as "Bad Brad" in Aaron Sorkin's snazzy directorial debut, Molly's Game. That's what brought him to the Toronto International Film Festival. He and I have a mutual friend in New York, so we chatted by his seat at the premiere and took a photo on my phone to send to our friend. This should have been the end of my benign Molly's Game premiere story. Cut to me at the concession stand (popcorn = my usual film fest dinner). When I went to pay, I realized that my wallet-keychain was no longer in my purse. Wallet and keychain. Keys. Wallet. 
The movie was now moments from starting. I ran back into the theater in my heels and looked frantically around my seat. Nothing. My heart started beating out of my chest. Oh god, I was going to be stuck in Canada. As a last-ditch effort before calling my mom in sobs, I ran to Bryan's seat in the reserved section and exclaimed, "Is my wallet around here?!!!" He and his manager searched around the area. The brown wallet was in the fold between the velvet cushion and the back of Bryan's seat. It had fallen out of my clutch when I grabbed my phone to take the photo. I let out a hasty thank you and ran back to my seat before anyone could process my stupidity.
Talk About an Inconvenient Truth!
Cannes Film Festival – May 2017
The former Vice President of the United States of America: He's just like Us! (I can't believe it's taken me this long to invoke that pun.) Al Gore headed to the French Riveira to promote his documentary, An Inconvenient Sequel, a follow-up to his Oscar winning hit that sounded the alarm on global warming. Since the early 1990s, I've associated him suits and tuxes. So it was a bit disarming to see him stroll into the Nice airport and stand in the Delta ticket line like any other shmo with luggage. Standing with him: his philanthropist girlfriend, Elizabeth Keadle. He wore in an ill-fitting button-down shirt and slacks. He didn't look like a former presidential candidate a vote away from calling the shots in the Oval Office. Good grief. He looked like my dad.
I hope I'm not breaching a level-five security clearance by revealing the rest of the story. Gore  — I can't call him Al — was also on my flight back to JFK. Upon our arrival, I fully expected him to be whisked off to some private exit reserved for Madonna and former VPs. Nope. I deplaned right behind the happy, hand-holding couple and had to walk the same looooooong corridor to customs. We both had expedited Global Entry. We both had to answer the same questions on the kioks and plunk down our passports. And we both had to wait for our luggage.
Yes, friends, it was literally me, Gore, his girlfriend and a young male handler/assistant at the baggage carousel. That's it. Desperate to seize the day (and kill the awkward silence in case he thought I was a stalker), I started the small-talk dance. I had seen his movie earlier in the year at Sundance and considered it a preachy snooze. But like any true politican, I smoothed out the edges.  "I just have to tell you that I went to the premiere of your movie at Sundance and loved it!" I told him with conviction. "It's more important than ever!" He thanked me in that distinctive Tennessee drawl. I pressed on. Time to start talking like an industry person. So he knows I'm legit. "Is it getting a wide release?" "I think at the end of June, but we'll see," he replied. "I hope people see it." Well, "congratulations!" Then Elizabeth gave him a peck on the lips. Ah, poor Tipper.
The Night We Met the Lady and the Champ
Sundance Film Festival — January 2017
I will spare you 35 years-worth of baseball fanaticism details and just say that I love my hometown Detroit Tigers more than peanut butter loves jelly. I hold my favorite baseball players in significantly more esteem than an actor that can recite lines in a movie. Actors help pay my bills; Detroit baseball stars make me happy. But go figure: I met star pitcher Justin Verlander at a watering hole called Rock & Reilly's during Sundance in Park City, Utah. I didn't just happen to be there. I received a press release in advance that he and his supermodel fiancée, Kate Upton, would be in the house to speak about some show sponsored by the Golf Channel. I had never watched a milisecond of the Golf Channel in my life and had no clue what it had to do with independent movies. I didn't care.
My childhood friend, Erin, shares in my Tigers obsession and goes to Sundance every year with me. Our plan was to pack our Tigers beanie hats in our purses, go the party and wait the perfect opportunity to pounce. It happened thanks to a huge assist from my friend and reporter extraordinaire Marc Malkin, who was interviewing them for E! He helped facilitate the introduction — after I pleaded, "My parents put down our dog today. You have to make this happen!!!!" (That's true. RIP Sammy)
By sheer coincidence, my brother had met Justin at an autograph thing in Detroit earlier that day and told him that his sister was going to see him in Utah. When I blurted out my opening line, "You met my brother today," he replied instantly, "Mara!" I was shocked. Justin Verlander just pronounced my name correctly. Pubicists that have worked with me for 20 years still don't pronounce my name correctly.
Erin and I breathlessly recapped about our Tigers love as if we were two 12-year-olds meeting Justin Bieber circa 2010. No actor, he seemed genuinely amused/impressed/horrified. He couldn't have been nicer. Kate — even prettier in person — showed us her stunning engagement ring and told us that wedding planning was underway. When we pulled out our Tigers beanies ("we travel with Detroit props!"), he laughed and exclaimed, "Oh my god, I love it!" See the photos above? Kate snapped the one of us with Justin. Justin snapped the one of us with Kate.
Before leaving, I shook Justin's hand and wished him luck on the upcoming season. I never imagined that he'd be traded to the Houston Astros six months later and win a world championship in another uniform. Now even my sports-eschewing friends kinda know who he is. For those precious few uninterrupted minutes, I wasn't a movie critic or a journalist. I was just a geek. I learned a valuable lesson that night: Sometimes heroes can live up to expectations. Also, never take a photo next to a supermodel.
---
Also published on Medium.