Luke Skywalker, Little Women and Cats! Here's the Scoop on 15 Holiday Movies
Published on November 22, 2019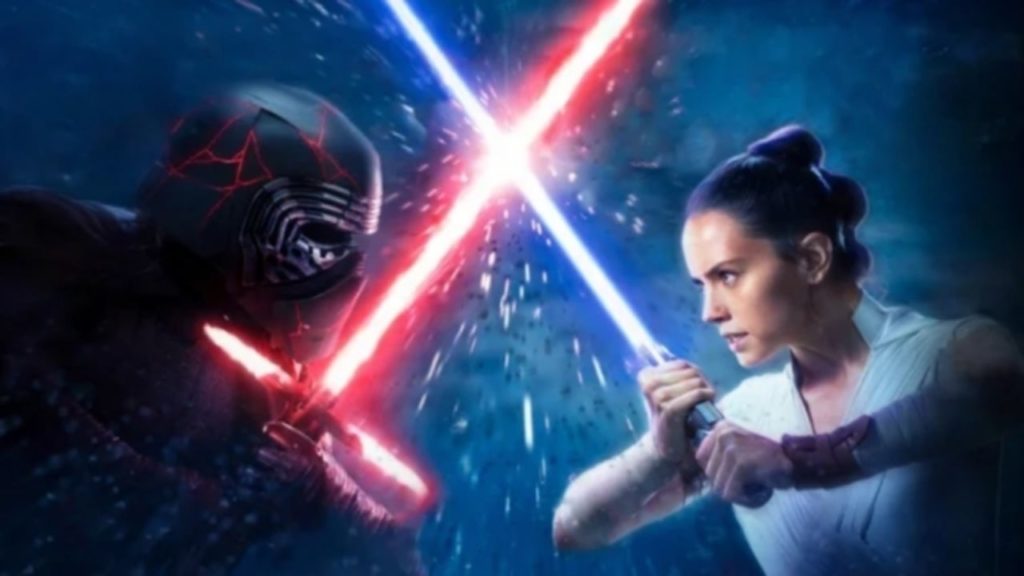 "The Charlize Theron transformation into Megyn Kelly in Bombshell is incredible." "Adam Sandler does his best work in Uncut Gems, but he's not getting a Best Actor Oscar nomination." "Florence Pugh will be the breakout of Little Women, no offense to Emma Watson." "Cats can't be that awful . . . right?" There, now you know exactly how to steer the awkward conversational banter during all your upcoming holiday parties. After all, eggnog is good, but nothing beats the thrill of unwrapping the brightest, biggest and best movies of the year.
Despite a lack of comic-book superheroes or Joker-like villains, the 2019 crop promises to put the cap on what's already been a record-breaking year at the box office. Thought Avengers: End Game was eagerly anticipated? Star Wars fans have waited for a proper, Ewok-less conclusion to the Luke Skywalker saga before Iron-Man star Robert Downey Jr. played the renegade teen punk in Back to School. And you must admit that the thought of Taylor Swift collaborating with Andrew Lloyd Webber on a new song for the Cats musical is, well, cinematic catnip. That's not the only special delivery coming your way: The holiday season also marks the last wave of Oscar-worthy contenders before nominations are announced on January 13. And, yes, Theron's performance is truly worthy of gold.
Many of these entries have already been circulating on the film festival circuit since September, enabling the buzz to build to a deafening roar. (And for me to add my hot takes!!!) Others won't be screened until the first snowfall. But they're all primed for glory. Here's the story and the scoop on 15 favorites. Let it show!
Waves
The story In sun-drenched southern Florida, an affluent African-American family navigate life in the aftermath of a stunning loss. Sterling K. Brown is the well-intentioned but domineering dad with great expectations for his overachieving kids (Kelvin Harrison, Taylor Russell).
The scoop While the narrative tropes — drug addiction, teen pregnancy, first love — are familiar, they're presented through a fresh lens with unexpected transitions to boot. This is contemporary cinema at its finest. Go.
(Now playing in NYC and L.A.; opens wide in theaters on Friday, November 22)
Knives Out
The story A wealthy patriarch is found dead the morning after his 85th birthday party. A P.I. (Daniel Craig) is on the case and quickly determines that everyone in his shady family is a suspect — including his daughter (Jamie Lee Curtis) and grandson (Chris Evans).
The scoop Whodunnit? Who cares! This dagger-sharp murder-mystery-comedy delights because of the ingenious, intricate twists courtesy of writer/director Rian Johnson (Star Wars: The Last Jedi). The all-star cast is bloody fantastic as well.
(In theaters Wednesday, November 27)
Queen & Slim
The story A mundane first date turns unforgettable when the couple (Get Out's Daniel Kaluuya and newcomer Jodie Turner-Smith) are pulled over for a minor traffic violation. The situation quickly escalates, forcing them to go on the run, Thelma & Louise-style.
The scoop This urgent drama, written by Emmy winner Lena Waithe, features a tantalizing premise but so-so execution. Still, the riveting performances make this odyssey worthwhile.
(In theaters Wednesday, November 27)
The Two Popes
The story In 2012, Cardinal Bergoglio (Jonathan Pryce) and Pope Benedict (Anthony Hopkins) convene behind Vatican walls in Rome to discuss their pasts, futures and the state of the Catholic Church in the present.
The scoop Wait. Don't skip over this. I realize it sounds like a nap in the making, but the film is surprisingly delightful — and features one of the wittiest scripts of the year. As in, howls of laughter emanated from my screening. Also, both stars are perfection.
(In theaters Wednesday November 27; on Netflix Thursday, December 20)
The Aeronauts
The story It's a bird, it's a plane, it's . . . a daredevil balloon pilot (Felicity Jones) and meteorologist (Eddie Redmayne) going up in a hot-air balloon in England circa 1862 to fly higher than anyone in human history. Emotional and physical challenges ensue.
The scoop The appealing stars of The Theory of Everything reunite in an old-fashioned adventure with little substance but way-impressive special effects. Translation: If you're going to see it at all, see it on a massive screen.
(In theaters Friday, December 6)
6 Underground
The story Six people from around the world have been chosen to delete their pasts and change their future in a bid to fight injustice. Ryan Reynolds is the enigmatic operation leader.
The scoop Yeah, I don't understand the high-concept plot description either. But (hopefully) we won't have to think too hard: This action vehicle is directed by Armageddon, Bad Boys and Transformers boss Michael Bay. It ain't Shakespeare.
(On Netflix Friday, December 13)
Jumanji: The Next Level
The story The four teens reenter the fantastical video game world of Jumanji as their adult avatars (played once again by Dwayne Johnson, Kevin Hart, Jack Black, Karen Gillan) to save a teen gone missing in the jungle.
The scoop A sequel to a movie that originated in 1995 and was based on a 1981 picture book doesn't hold much promise in theory. But 2017's Jumanji: Welcome to the Jungle was unexpected fun. Here's hoping the stars are still game.
(In theaters Friday, December 13)
Richard Jewell
The story Richard Jewell was the security guard who alerted police to a backpack filled with pipe bombs in Atlanta during the 1996 Summer Olympics. He soon turned into suspect No. 1. This is his truth-is-stranger-than-fiction story, featuring Sam Rockwell, Jon Hamm, Olivia Wilde and Paul Walter Hauser (I, Tonya) in the title role.
The scoop Spoiler: There's no happy ending to this Clint Eastwood-directed drama. But, judging from the urgent trailer, it promises to be a fascinating journey.
(In theaters Friday, December 13)
Uncut Gems
The story Brash Howard Ratner (Adam Sandler) is New York City jeweler and hustler. He has a successful business and a family but both are back-burnered when he attempts to nail down the score of a lifetime. Somehow, ex-NBA great Kevin Garnett is mixed up in all this.
The scoop My heart rate still hasn't come down from watching this live-wire crime thriller, which starts at 100 miles per hour and rarely lets up. (Seriously, if you're prone to anxiety attacks, then consider staying away.) Sandler has never been played a character more abrasive or audacious. This is a compliment. I think?
(In theaters Friday, December 13)
Bombshell
The story The female employees of Fox News take on the alpha-male culture in the wake of Trump election. Their pushback leads to the downfall of head honcho Roger Ailes (John Lithgow). Ahem, based on a true story.
The scoop This searing piece of work — which examines gender politics at its most toxic — will leave you rattled. (It's also highly entertaining but that adjective just seems wrong in this context.) Theron mesmerizes as polarizing Kelly; Nicole Kidman (as Gretchen Carlson) and Margot Robbie (as a producer on the rise) bring the heat as well. What a stunner.
(In select theaters December 13; everywhere Friday, December 20)
Cats
The story Over a course of one night, a group of Jellicle cats individually make the case — via singing and dancing! — as to why they're each worthy enough to enter the Heaviside Layer, i.e., the feline version of heaven. The cast includes Taylor Swift, Jennifer Hudson, Idris Elba, James Corden and Rebel Wilson.
The scoop The trailer is iconic for all the wrong reasons. (To quote one tweet, "I don't know why you're all freaking out over miniature yet huge cats with human celebrity faces and sexy breasts performing a demented dream ballet for kids.") But admit it, you're curious. Hello, kitty!
(In theaters Friday, December 20)
Star Wars: The Rise of Skywalker
The story In the climactic Episode 9 of the saga, Resistance fighters Rey (Daisy Ridley), Finn (John Boyega) and Poe (Oscar Isaac) face the First Order and Kylo Ren (Adam Driver).
The scoop The struggle between good and evil has connected everything in the Star Wars galaxy. There's no reason to think J.J. Abrams' culminating installment won't follow the same path, especially with favorites Luke Skywalker, General Leia and Lando in the trailer. If he doesn't deliver, may the force be with us all.
In theaters Friday, December 20
Little Women
The story Hello, didn't you read the Louisa May Alcott book in tenth grade? Ultra-Cliffs' Notes version: The March sisters (Saoirse Ronan, Emma Watson, Florence Pugh, Eliza Scanlen) stand by each other in good times and sad in the aftermath of the Civil War.
The scoop Three cheers and five hankies for this lovely adaption. Obviously the cast — which also features Timothee Chalamet as the dreamy Laurie and Meryl Streep as Auntie March — is fab. You'll especially be taken with the way director Greta Gerwig (Lady Bird) brings her modern sensibilities into a classic 19th century story.
In theaters Wednesday, December 25
Just Mercy
The story In 1987, an idealistic Harvard-educated attorney (Michael B. Jordan) fights to free a wrongly accused convict (Jamie Foxx) from Death Row in Alabama. Brie Larson assists
The scoop The fact-based drama is a bit preachy and formulaic, but it's for a noble cause. Indeed, it celebrates unassuming heroes who persevere and make a difference. Definitely worth your consideration.
In select theaters Wednesday, December 25
1917
The story Two young British privates (Dean-Charles Chapman and George MacKay) during World War I must embark on a dangerous mission deep in enemy territory. Also among the cast: Colin Firth, Benedict Cumberbatch and Richard Madden.
The scoop Director Sam Mendes and cinematographer Roger Deakins filmed this war epic to look like one continuous shot, as the story unfolds in real time. This one promises to be a gripping, edge-of-your-seat journey.
In theaters Wednesday, December 25