'Ingrid Goes West' Review: You'll Like This Smart Social Media Satire
Published on August 10, 2017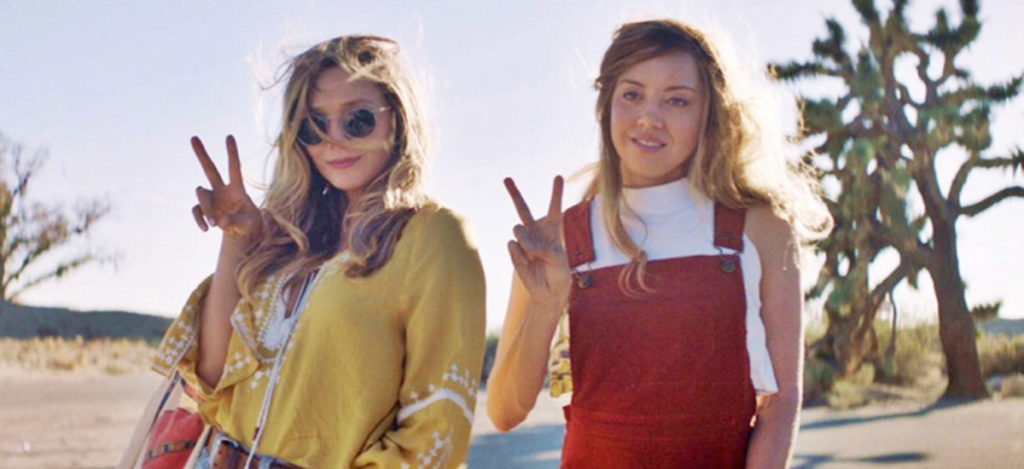 OMG, love that Taylor Sloane! She's that lithe blonde on Instagram with a legion of loyal followers. An unofficial social media "influencer," she posts a steady stream of pristine photos of her avocado toast breakfasts and no-filter Venice Beach sunsets. She liberally quotes Joan Didion. She might even respond to your comment with a cute emoji. One more thing: Taylor is a fictional character in Ingrid Goes West.
Elizabeth Olsen plays this California ray of sunshine to perfection. Aubrey Plaza is the titular character, an unstable girl who takes her fixation with Taylor way too far. Call this dark comedy a modern twist on Single White Female — except, in the Instagram age, living vicariously through a total stranger isn't nearly as taboo as it were back in the summer of 1992. Dare I say it's a social media given. Which, if we're being honest, is weird in and of itself. That's why this brutally sharp satire cuts deep.
The prologue is reminiscent of the final scene of the amazing Bryce Dallas Howard episode of Black Mirror: Ingrid shows up dirty and disheveled to a former classmate's wedding, then maces the bride in the face for not inviting her. She became unglued from reading all the happy posts. See, Ingrid doesn't just grit her teeth when someone feels #blessed like the rest of us. She lives her life through Instagram. A harmless "like" gives her instant validation. When Taylor responds to Ingrid with a complete sentence and an L.A. brunch spot recommendation, the lightbulb goes off.
Using the inheritance from her recently deceased mom, Ingrid goes west in hopes of infiltrating Taylor's boho-chic world. It's as easy as making a kale smoothie. The pursuit is amusing (she pretends to love a work of highfalutin literature) and disturbing (oy, dognapping). Then she meets Taylor in the flesh and does even more awful things to cement the friendship. When Taylor's obnoxious brother (Billy Magnussen) threatens to expose her, she gets downright and hilariously nasty.
Admittedly, it's all sorts of wrong to be entranced by the behavior of mentally troubled girl. And yet the wonderful Plaza gives her a sly sympathetic edge. She never resorts to absurd thriller-like machinations. In a perverse way, Ingrid is the tragic hero and Taylor is the conniving villain. I wanted to slap the self-proclaimed "photographer" across the face when she exclaims to Ingrid at a gas station en route to Joshua Tree, "Ohmigod, you're my favorite person I've ever met!!!" Two seconds later, she instructs a stranger how to position his phone to get the most flattering angle of her.
It's funny because it rings true. Ingrid Goes West is blistering when it skewers New Age-y la la land pretension. (Um, no offense?) Taylor's husband (Wyatt Russell) is a "painter" whose unsold works consists of landscapes with "Squad Goals" and "#NoFilter" emblazoned on them. The couple spend their mornings at the Farmer's Market. The magnificent Olsen, in a 180-degree departure from her hard-nosed FBI agent role in Wind River, speaks almost exclusively in earnest hyperbole. Just as Ingrid goes to extremes be liked by Taylor, Taylor goes to extremes to curate a lifestyle and be liked by everyone. Both women are surprisingly complex beneath all the superficiality. But only Ingrid has a secret weapon — her landlord (O'Shea Jackson, Straight Outta Compton), an aspiring screenwriter and Batman addict who accepts her weirdness. He's all aces as the comic straight man.
At January's Sundance Film Festival, Matt Spicer and David Branson Smith won a special award for their Ingrid Goest West screenplay. Cheers to them for having the smarts to laugh at the new definition of celebrity youth culture and to go inside the mind of a lonely social media addict. Don't laugh too hard at Ingrid. How many times today have you refreshed your social media profile to see if that new photo has accumulated more "likes"? When was the last time you tapped your fingertip to heart a star's inane tweet in hopes of a response? No, Taylor Sloane isn't real. But she might as well be. And you'd probably follow her.
(Ingrid Goes West opens in NYC and L,A. on Friday, August 11 and nationwide on Friday, August 25)
---
Also published on Medium.
Rating: