'Parasite' and 'Jojo' Are Their Names! Your Guide to the Best October Movies
Published on October 16, 2019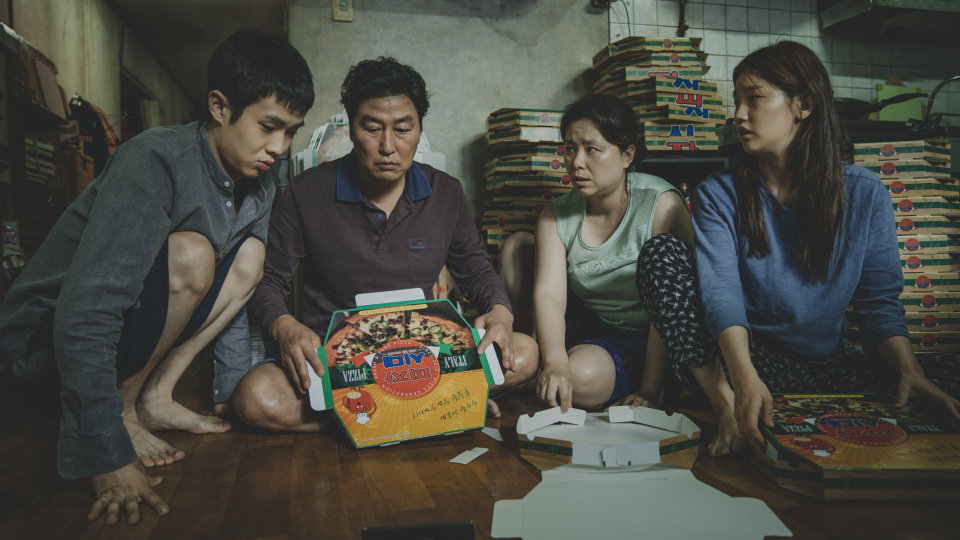 Good news! This is not a hot take on Joker. The ultra-violent, utterly pointless anti-superhero tale a big fat box-office hit, and there's nothing more I can do about it. Now let's move on to the other offerings in October. The better offerings. The offerings that deserve as much — if not more — glory and headlines as Joaquin Phoenix' clown-faced anarchist. (OK, I'm done now, I swear.) You want real edge-of-your-set terror? Enter Parasite, which has nothing to do with disgusting disease but will still make your skin crawl and your brain work overtime. How about a truly unique and sweet comedy played out in the backdrop of World War II? Jojo Rabbit, your life is calling. So walk outside, enjoy the fall foliage, take a photo to capture the image and then head directly into a movie theater.
Parasite
4 stars (out of 4)
Movies don't get more enthralling than this film festival favorite (and likely Best International Film Oscar winner). It's a see-it-to-believe-it highly original parable about two South Korean families on the opposite ends of the class spectrum. They become enmeshed when the destitute-but-resourceful Parks worm their way into the lives of the wealthy-but-daffy Kims. What starts as a relatively harmless — and darkly comedic — scam soon spins out of control in ways that will leave you gasping for air. Director Bong Joon-Ho (Snowpiercer, Okja) delivers a brilliant and furious commentary at the social pressures of the haves versus have nots. And in terms of pure entertainment value? Priceless. Read nothing else. Just go and sit in awe. Then go again. (Now in select theaters; don't worry, Parasite will roll-out in other cities soon enough. Check Fandago!)
Maleficent: Mistress of Evil
(2.5 stars out of 4)
Not my favorite, but kids will lap it up. Hell hath no fury like a malicious horned fairy scorned!!! Angelina Jolie proved that with glee in the hit fantasy Maleficent back in 2014. But in this follow-up, the so-called mistress of evil who once put a curse on Sleeping Beauty is more like a shrinking violet in an enchanted forest — that is, when she's onscreen at all. The focus here is lovely Princess Aurora (Elle Fanning), now an adult set to wed a generic prince (Harris Dickinson). Little does she know that her sinister future mother-in-law, Queen Ingris (Michelle Pfeiffer) is secretly hatching a plan to start a deadly war between the humans and the fairies and frame Maleficent in the process. That's a pretty heavy plot for a two-hour fairy tale aimed at small kids, and the film is weighed down even more by a lack of sparkle and wit in the dialogue. What's the fun in having two old-school divas (with to-die-for cheekbones to boot) face off if Jolie is hiding out in victim mode? At least the inevitable happily ever after is pure magic. (In theaters Friday, October 18)  
Jojo Rabbit
3 stars (out of 4)
In terms of polarizing an audience, Joker has nuthin' on this off-kilter anti-hate satire, which revolves around a 10-year-old boy and his bumbling imaginary friend named Adolf Hitler. During the end of World War II in Germany, lonely Nazi-in-training Jojo (Roman Griffin Davis) is aghast when he discovers that his resistance-fighting single mom (Scarlett Johansson, doing a thick German accent) is hiding a Jewish girl (Thomasin McKenzie) in their attic. The two soon form an unlikely friendship. Though the whimsical film recently won the coveted Audience Award at the Toronto International Film Festival, the absurd humor is most definitely not for everyone. Still, writer-director Taika Waititi (who also plays Hitler) delivers a meaningful message: Love and laughter can conquer hate, and the only real lunacy in the world is war.  (In select theaters October 18)
Dolemite Is My Name
3 stars (out of 4)
Eddie Murphy isn't just back in his wheelhouse, he's blowing the roof off the place. In a brash and wildly entertaining underdog story, the comedy great plays a comedy great named Rudy Ray Moore. Never heard of him? Well, in the 1970s, the then-struggling performer decided to overhaul his image and become a pimp-dressing, foul-mouthed, rapping stand-up. He also drained his savings to star in his own movie, Dolemite — which became one of the most successful Blaxploitation entries of all-time. Not only does Murphy ooze confidence as the brazen Moore, he channels his big heart and optimistic spirit. Nice supporting turns from Wesley Snipes, Mike Epps and Keegan Michael Key Dynamite! (Now in theaters; streaming on Netflix on October 25)
The Current War: Director's Cut
????? (out of 4)
Ready for a fun story? Back in September 2017, The Current War was the hot ticket on a Saturday Night at the Toronto International Film Festival. We're talking Benedict Cumberbatch and Michael Shannon as real-life inventors and rivals Edison and Westinghouse, respectively. And Tom Holland! But the drama turned out to be a confusing, glacially paced four-star snooze. Half the audience walked out before the Q&A. And then the real drama happened: Producer Harvey Weinstein was exposed as vile bully and sexual predator and the movie got scuttled. But! The film has since been re-cut, moved to a new studio and, per the publicists, this new version is how director Alfonso Gomez-Rejon (Me and Earl and the Dying Girl) originally envisioned it. How very Superman II. Will this electric tale sizzle? Doubtful . . . but now you're curious, aren't you. (In theaters October 25)
---
Also published on Medium.