Here's Why Tom Cruise Will Crash and Burn if He Films the Top Gun Sequel
Published on June 12, 2017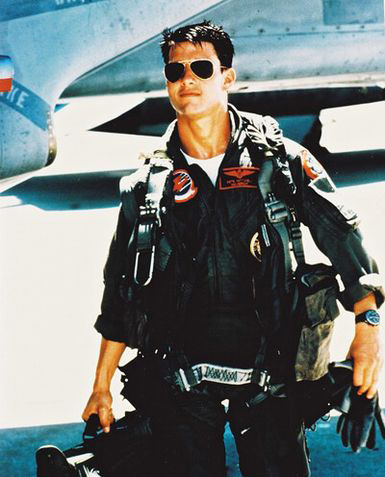 Dear Tom,
Do not film that Top Gun sequel.
Wait, I'll back up. This is Mara Reinstein of MaraMovies. We had a moment in June 2005. I stood up during your New York City press conference for War of the Worlds at the Essex House and brazenly asked you how you planned to top your romantic wedding proposal to Katie Holmes. Your director, Steven Spielberg, sitting right next to you, looked like he wanted to go all Eric Bana in Munich on me. But you flashed that toothy grin, guffawed and promised me, "I'm going to try." So now that we're best friends, I must be brutally honest with you.
Do not film that Top Gun sequel. I mean it.
I understand why you're excited to once again feel the need, the need for speed. I read all the fanfare surrounding the Top Gun: Maverick announcement during your press tour for The Mummy. Nice way to distract from the disappointing dud at-hand. But if you actually go ahead and do this, you are going to crash and burn.
The thing is, Tom, 1986 was so long ago that the Chrises were still in diapers. Yet there you were, lighting up the screens as a Navy pilot Pete "Maverick" Mitchell. The fitted white T-shirt, the Ray-Ban aviators, the leather jacket, the motorcycle. You were both hot and cool. Frankly, Top Gun was a blockbuster because of you. Ya think Emilio Estevez could have stood up to the man who played the principal from Back to the Future?
I bring up this point because not even the great Tom Cruise can time travel. Top Gun was a perfectly bombastic 1980s Jerry Bruckheimer vehicle, and there's no going back to that moment. Revisiting Maverick will only sully our memories of that iconic character. I know you, Tom. You're not going to sit behind a desk for two hours. You're going to want to do all your stunts and brag about it to Jimmy Fallon. No. I don't care that you still have your hair. Well, I do care, but I digress. A 50-something Navy pilot playing shirtless beach volleyball and navigating the skies and/or life in the 21st century reeks of desperation. Like that middle-aged guy loitering at a bar and asking a Millennial to see her Insta-Story. It will lead nowhere good — the possible exception of a Kenny Loggins renaissance notwithstanding
Let me walk you through it. First come the staged paparazzi shots of you on the set. The initial frenzy turns into photo galleries and polls comparing your looks from 1986 to today. Guess which look will win. Then the film gets a release date, likely a summer tentpole weekend. I suspect it will go up against a shiny comic book adaptation. These rabid comic book fans come out in droves, Tom. Finally, Top Gun: Maverick opens in theaters. The best possible outcome: respectable reviews and a boffo box office in Australia. But it will not become a word-of-mouth international classic a la the original. That's, ahem, a mission impossible. Sequels just can't deliver the same magic. The worst-case scenario? Basic Instinct 2. Imagine critical spankings with headlines such as "Top Gun 2 Doesn't Take My Breath Away."
You're better than an easy Berlin pun, Tom. In fact, you're better than a lame Mummy revival. And another Mission movie. And a Jack Reacher sequel. It's like the needle is permanently stuck on the commercial stud action hero portion of your soundtrack. (Thank goodness you're old enough to understand a long-winded vinyl record metaphor.) The pic American Made, in which you play a CIA pilot, looks vaguely promising — but you made it three years ago, and it's already on its second title. Oy?
So move on to the next song. You are a three-time Oscar nominee. Start acting like one. Call Damien Chazelle or Alejandro Inarritu and inquire within. Make a statement and take a supporting role in Patty Jenkins' next project. (Yikes, have you ever even worked with a female director?)
And here's an idea: Take a meeting with Lorne Michaels and play James Comey next season on Saturday Night Live.
If you really want to fly down memory lane, I recommend that you land on the mid-90s. That's when you completed Renee Zellweger in Cameron Crowe's sublime romantic comedy Jerry Maguire, ventured into the dark side in Stanley Kubrick's noir thriller Eyes Wide Shut then put on exclamation point on the decade with your turn as a sleazy, chauvinistic guru in Paul Thomas Anderson's Magnolia. Brilliant risk-taking all around. You showed your range by working with top-notch directors and your star only got bigger. That's the Tom Cruise we all long to see. Step away from the airplanes.
Sorry about this, Tom. I just had to tell the truth. I hope you can handle it.
Call me if you need me, and I hope you're OK with the Jamie Foxx–Katie Holmes thing.
Toodles,
Mara
Ps. I miss Goose.
(Questions? Comments? Leave 'em below and I promise I'll respond!)