Review: I Found Your New Favorite Rom-Com — And It's Called The Big Sick
Published on June 19, 2017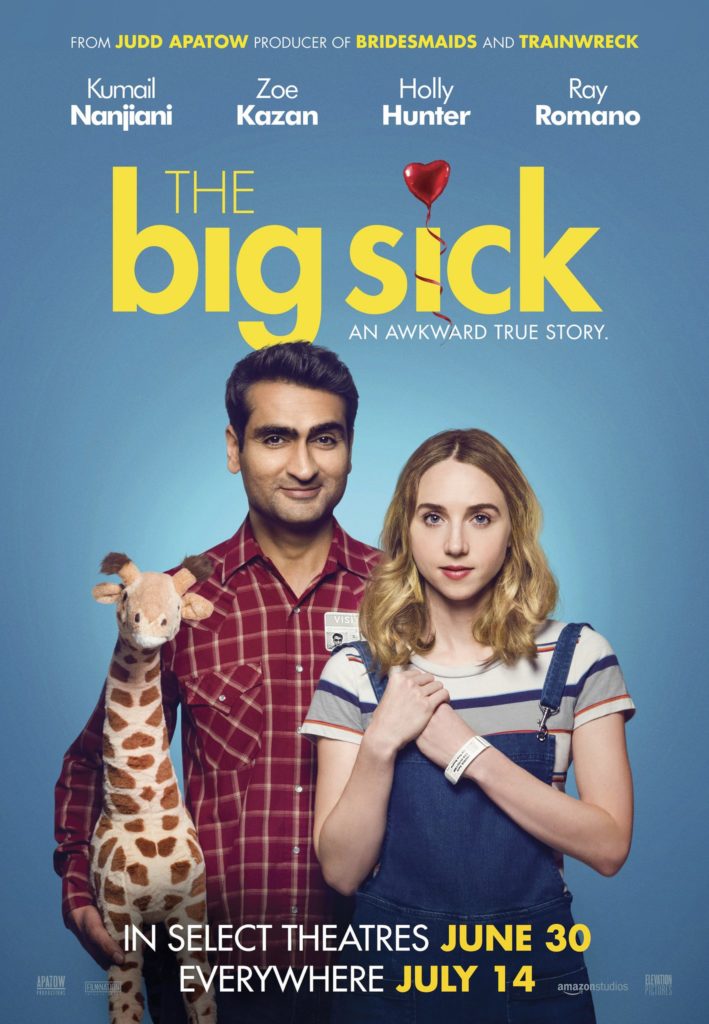 That title is a misnomer.
The movie is not some weepy Nicholas Sparks melodrama or groundbreaking medical crusade. Illness is merely a supporting character. So just forget about what The Big Sick isn't and focus on what it is: One of the sharpest and most genuine romantic comedies to come around in a long time.
And for that, we have to thank . . . . that guy from HBO's Silicon Valley.
Not Zach Woods. Not T.J. Miller (phew). I'm talking about Kumail Nanjiani. Get to know his name, if you don't already. The actor based the film on his real-life courtship with wife Emily V. Gordon, and the two co-wrote the screenplay. Nanjiani stars, with actress Zoe Kazan taking on the role of Emily. Get to know her too. Michael Showalter, a creator of the subversive Wet Hot American Summer, directs. Maybe you know him already?
So let's just get this out of the way and state the obvious. Nanjiani is a Pakistani-American. He's not the prototypical romantic leading man. He does not remotely resemble Matthew McConaughey. My Microsoft Word document is convinced his name is a typo. But his unorthodox heritage is the catalyst for the entire film — and part of what makes it soar. (There's a reason it nabbed a $12 million distribution deal from Amazon Studios at January's Sundance Film Festival.)
The guy also happens to be hilarious. Playing a stand-up comic who tells jokes in a gloriously deadpan patter, Kumail — yep, he plays a guy named Kumail — has the audience, onscreen and off, in his pocket very early on. (Later, he gets away with an uproarious joke about 9/11.) He's in the middle of a set at a Chicago club when he's interrupted by a pretty blonde (Kazan) named Emily in the audience. He confronts her later at the bar, and the two strike up a flirtatious banter. It's on.
But their romance is fraught with complications. Not just the ones spelled out in the unofficial relationship manual (Is the sex good? Why is he so aloof?) Kumail's parents are insistent that he marry a fellow Muslim. Per their strict rules, dating outside the faith is a sin. He's given so many photos of available single women that he sifts through them like baseball cards. Deep into his relationship with Emily, he still keeps the photos in a drawer in his room. That's why, in Kumail's mind, this is a short-term affair. He can't possibly bring home a white Christian woman and put a ring on it.
In 99 percent of other rom-coms, the two would learn to embrace each other's differences and live happily ever after before the closing credits. Nina Vardalos built a My Big Fat Greek Wedding franchise around this premise. There's nothing sitcom-y about Kumail and Emily's fate, though. Emily's tears of frustration are real. The same goes for Kumail's fears about his parents' disapproval. And when she falls ill with a mystery ailment and slips into a coma, it doesn't unfold like a contrived twist. Her prolonged hospital stay is more than a plot beat. Kumail must man up, and he does it in the most authentic of ways.
Maybe now is a good time to mention that Judd Apatow is the film's co-producer. His fingerprints are all over the project, from Kumail's boy-child immaturity to the dimly lit comedy club patter to the 15-minutes-too-long run time. (I maintain no comedy should hover around the two-hour mark.) The super-producer has a special knack for fleshing out leading characters, making them spectacularly flawed and yet still infusing them with genuine warmth and likability. Audiences care about their well-beings. Think Hannah Horvath and Ben Stone and Amy from Trainwreck. There are points in which Kumail deserves a slap in the face for his treatment of the lovely Emily. You will root for him anyway — especially when he bonds with Emily's terrified parents (Ray Romano and Holly Hunter, both excellent and worthy of all the praise that will surely come their way). (Also, I fully expect a Golden Globe nomination for Nanjiani in the comedy category.)
We've been weaned on a certain brand of romantic comedy for the past 30 years. Boy adorably meets girl, boy dates girl, boy breaks up with girl, boy chases girl down while a retro pop song is heard in the background. The Big Sick proves that there's more than one way to a happy, heart-swelling ending. Call it The Big Crowd Pleaser.
(The Big Sick opens in theaters Friday, June 23)
Questions? Comments? Leave 'em below and I promise I'll respond!
---
Also published on Medium.
Rating: