'Sicario: Day of the Soldado' Review: Sequel Is Intelligent and Intense
Published on June 25, 2018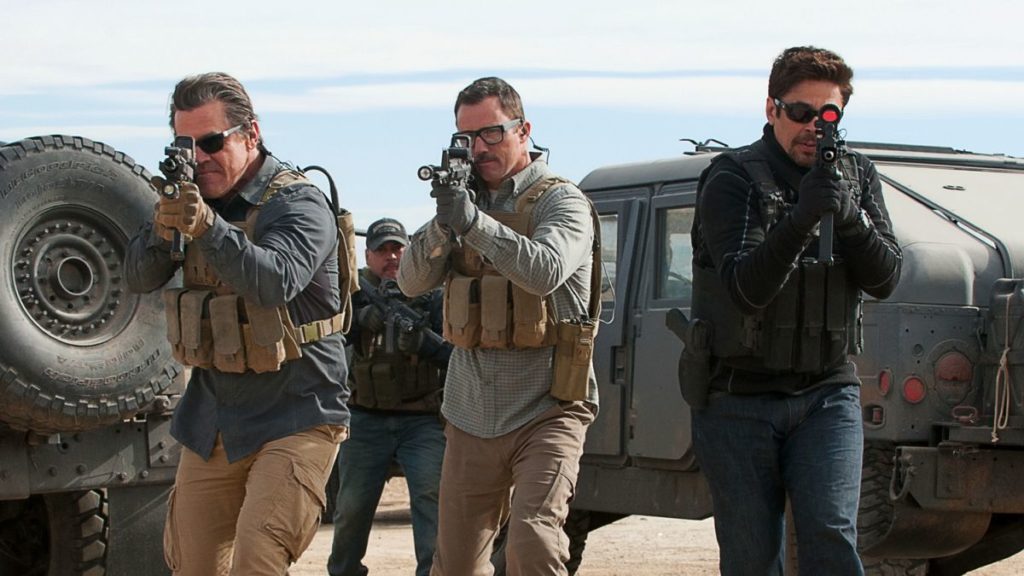 Forget everything you know about undercooked summer movie sequels and spinoffs that seem to exist solely as a quick cash grab for lazy producers. Sicario: Day of the Soldado is as intense and hard-core as a film can get. For what it lacks in a slick title, it makes up for in a brutally powerful story that once again examines the bleak war on drugs.
Its success is even more stunning when you consider that 1. The original movie, 2015's Sicario, is one of those raw, original grown-up movies that came equipped with cool points. As in, "You know what I last week that I loved? Sicario." Boom. Cred. (It's OK; I won't tell anyone that you didn't understand the finer details.) It's difficult to top that accomplishment. 2. Sicario's original star, the universally beloved Emily Blunt, is gone. Her arc as the idealistic FBI agent that becomes exposed to the corrupt underbelly of law enforcement has run its course. Her Kate Macer is not mentioned once in Soldado. This is most definitely not OK. Authentic, empathetic female authority figures don't just grow on Hollywood money trees.
In lieu of Miss Blunt, unlikely star of the summer Josh Brolin — capping off an impressive hat-trick after Avengers: Infinity War and Deadpool 2 — gets top-billing this time as Matt Graver. He's the elite government task force agent that casually chomps on gum as he carries out violent operations. Extracting answers from a terrorist suspect comes as naturally to him as putting on a pair of khaki shorts to wear in the Middle Eastern heat. Now the U.S. Department of Defense, led by Matthew Modine and Catherine Keener, want him for a new job. You would too.
In a bid to stop illegal human trafficking across the U.S./Mexican border, Graver is asked to go to Mexico and kidnap a drug kingpin's teen daughter, Isabela (Isabela Moner). The goal: Ignite a drug war between rival drug cartels. Things might get dirty, he warns the officials. Replies Modine, "Dirty is exactly why you're here." Roger that. For help, Graver turns to Alejandro (Benicio Del Toro), that enigmatic agent and renegade vigilante still seething about the murder of his own family at the hands of the cartel. (Lest you forget that sicario means "hit man" in Spanish; soldado means "soldier.")
What could go wrong when the rules don't apply? For starters, almost everything.
Sicario, as seen through the eyes of Blunt's heroine, portrayed the drug trade as an impenetrable maze of deceit. She questioned the morality of lawlessness for the sake of justice. With her character MIA, there's no voice of reason guiding the way. We're now faced with ruthless, gritty, hard-nosed characters of all ages that leave an unsettling and relentlessly bloody trail in their travels up and down the border. Bullet fly, bodies are callously stacked. I caught myself audibly gasping more than a few times. And for a further exploration of the repercussions of violence, look elsewhere.
Working from an intelligent screenplay by original writer Taylor Sheridan (Wind River, Hell or High Water), new director Stefano Sollima — taking over for the artful Denis Villeneuve — eschews the quiet suspense of the original in favor of action. The execution is nearly flawless, and it's enhanced by mesmerizing synth musical score courtesy of Hildur Gudnadottir.
Soldado stumbles when it aims for sentiment. The bond between Alejandro and Isabela as they face impending danger is coated with moral intrigue; the bond between Del Toro and a poor migrant that only communicates via sign language is forced. We're also asked to care hard about Moner, a character that go through hell yet spends most of the film simply reacting. Still, the performances are altogether excellent.
The unflinching menace finally comes to full-stop after a wallop of a closing scene that sets up a third installment in the Sicario saga. Buckle up and let's go.
Sicario: Day of the Soldado opens in theaters on Friday, June 29go
---
Also published on Medium.
Rating: