Top 10 Movies of 2019: 'Hustlers,' 'Avengers: Endgame' and More!
Published on December 7, 2019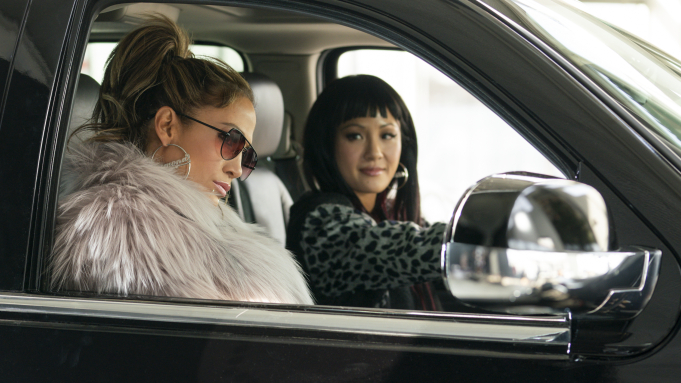 How to describe the year of 2019 in movies? To paraphrase that scholarly villain known as Thanos, it . . . was . . . inevitable.
The biggest hits at the box-office were based on tried-and-true titles that have kicking around in your pop-culture consciousness for years, if not decades. Think The Lion King, Aladdin, Frozen 2, John Wick: Chapter 3, Captain Marvel, It: Chapter 2, Spider-Man: Far From Home, Toy Story 4 and, yes, Avengers: Endgame. But wait, Star Wars: The Rise of Skywalker is still on the way! Forget the tiny fact that not all these entries were high-quality gold stars; people craving familiarity wanted to feel the love (tonight).
But the remarkable thing about movies is that every new screening holds an opportunity for surprise. You never know when a crazy-dramatic twist can develop (Us) or Keanu Reeves pops up as an ultra-vain hipster version of himself (Always Be My Maybe). You can hear Elton John's "Your Song" a thousand times but when Taron Egerton tries it in Rocketman, it sends your heart soaring. You see Tom Hanks as Mister Rogers and can't stop smiling and Joaquin Phoenix as Joker and can't stop gawking. These little moments add up to awestruck greatness. And in that respect, 2019 movies did not disappoint.
I saw about 300 new films this year. I'm inclined to count The Irishman twice because of its 209-minute run time. Here are the 10 best, plus a handful of honorable mentions. If you haven't done so already, check them out. Snap.
10. Avengers: Endgame
Let's start with a salute to, ahem, a cinematic Goliath. The superhero extravaganza, which featured appearances from, what, 158, MCU characters, carried a ridiculously high degree of difficulty and succeeded on all counts. Not only was it thunderous and satisfying, it carried true emotional heft as we bid adieu to some of our favorites. Stan Lee must be smiling somewhere.
9. A Beautiful Day in the Neighborhood
Tom Hanks is the only living actor who, like Fred Rogers himself, owns a special place in the hearts of all Americans (of a certain age, anyway). Nobody else on Earth could have played this cherished children's television host, let alone embody his kind spirit in a drama that isn't so much biopic as it is lovely illustration at his unparalleled empathy toward others.
8. Bombshell
Current-event movies tend to get bogged down in the casting gimmick. (See: Vice.) This revealing drama, which focused on how female Fox News staffers took down the network's toxic male culture, was an exception. Sure, the performances were fantastic — especially Charlize Theron as Megyn Kelly. But the explosive story at the center can't be denied.
7. The Farewell
Awkwafina was a revelation in writer-director Lulu Wang's lovely take on the joys and agonies (and more joys) of a bustling family. A deeply felt tale of a family trying to hide a health secret from their grandmother in their home country of China, this Sundance indie transcended all ages, races and cultures. If you didn't cry in the final scene, then you're dead inside.
6. Knives Out
The musty murder-mystery genre has officially sharpened up. Who killed a family patriarch on his 85th birthday and why? The supreme delight was in the how. As in, how all the game stars (Daniel Craig! Chris Evans!) turned on the cheeky charm in a clever original story from Rian Johnson that somehow locked all its pieces together.
5. Hustlers
Years from now, you'll still remember where you were when you first saw Jennifer Lopez pole-dance to a Fiona Apple emo staple. The mega-superstar (and future Oscar nominee!) personified flash and brash in a gloriously empowering true-crime drama about a group of strippers who swindled their jerk clients out of moolah. Hate the game, not the players.
4. Parasite
Movies don't get more enthralling than this wildly original parable (and future Best International Film Oscar winner) about two South Korean families on the opposite ends of the class spectrum. Its brilliant and furious commentary at the social pressures of the haves versus have nots is not easily shaken. And in terms of pure entertainment value . . . Priceless.
3. 1917
Wowza. This wartime opus, which chronicles two British soldiers (George MacKay, Dean Charles Chapman) tasked with delivering a message in enemy lines, is a true feat of immersive moviemaking. The camera never leaves the point of view of the main characters, making for a stunning and breathless visceral experience. It's as intimate as it is grand.
2. Once Upon a Time in Hollywood
It's a leisurely epic that lacked a steady narrative, if not an urgent takeaway. And yet there was something intoxicating about Quentin Tarantino's melancholic ode to his California roots. Maybe because we got the privilege of riding along Brad Pitt and Leonardo DiCaprio as the onscreen best friends cruised down Sunset Boulevard with the radio blaring. Swoon.
1. Marriage Story
The premise: A devoted (albeit ridiculously privileged) couple (an equally brilliant Adam Driver and Scarlett Johansson) on the decline must learn how to rise anew. Writer-director Noah Baumbach, using his own personal experience, takes us along for an emotionally complex journey filled with all sorts of uncomfortable feelings and squabbles and courtroom showdowns. And yet the shattering devastation is balanced with poignant hilarity — and, most important, hope.
Honorable Mentions: The Irishman, Little Women, Richard Jewell, Waves, Ford V Ferrari and Always Be My Maybe