Which 10 Movies Reigned at the 2018 Toronto International Film Festival?
Published on September 13, 2018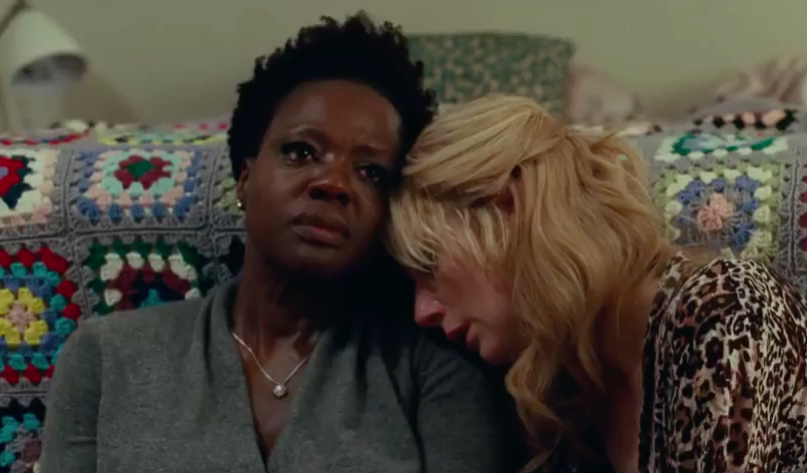 It's an unseasonably chilly Sunday evening at the Toronto International Film Festival. You could turn in early and take advantage of the festival's most coveted commodity — that would be sleep — or you could go to the premiere of that glittery Lady Gaga musical, A Star Is Born. Or Jonah Hill's directorial debut, Mid-90s. Or If Beale Street Could Talk, the latest from Moonlight director Barry Jenkins. Or a buzzy Elle Fanning pop-music fable called Teen Spirit. And, wait, isn't that Robert Pattinson sci-fi supposed to be good too?!? Or, ahem, maybe the best option to finally sit down and write. So it went at #TIFF18, where, as usual, legit Oscar contenders were more prevalent than a downtown Tim Hortons shop. I recommend you keep watchful eyes on these 10 buzzy beauties, as well as the Pumpkin Spice muffin.
First Man
I saw it for the second time in a week. Bonus: Viewing No. 2 screened on the oldest IMAX theater in the world. (And yeah, I cried again.) One more recap: An understated Ryan Gosling takes on Neil Armstrong, the enigmatic astronaut that risked his life to moonwalk in 1969. But this is no orchestra-swelling biopic: Oscar-winning director Damien Chazelle (La La Land) eschews the rah-rah fanfare to give audiences a gritty and moving history lesson about the American space program. The striking sights and sounds of this extraordinary drama will not soon be forgotten. And surely you'll never look up at the moon the same way again. (In theaters Friday, October 12)
Widows
I'm still recovering from this heart-stopping thriller. Four undervalued women (Viola Davis, Michelle Rodriguez, Elizabeth Debicki and Cynthia Erivo) are left in debt after their crooked husbands die in a heist-gone-awry. The only way out of trouble with the bad guys is to carry out a high-stakes robbery of their own. Directed by 12 Years a Slave's Steven McQueen and written by Gone Girl's Gillian Flynn, Widowstakes the caper genre and sets it on fire. Its social realism adds serious heft, while the cast — which also includes Liam Neeson, Colin Farrell, Robert Duvall, Daniel Kaluuya and an adorable Westie dog — is all aces. I predict the word "bad asses" will be used in every single glowing review. (In theaters Friday, November 16)
Colette
Corsets aside, this film is the opposite of the prototypical period piece. For starters, the heroine — played by a stunning, ravishing Keira Knightley — is a tart, forward-thinking LGBTQ feminist that fights for creative control over her work. In Paris at the turn of the 20thcentury, her Colette weds a semi-famous author known as Willie (Dominic West). He convinces her to ghostwrite his books, which become a culture sensation. Colette's struggles with her narcissistic husband spark a brash gender, fashion, style and sexual rebellion. All the above changes are delicious to behold, especially when she and her husband both lust after the same woman! (In theaters Friday, September 21)
Can You Ever Forgive Me?
Hey, Melissa McCarthy: You're officially forgiven for The Happytime Murders. But no need to ever be sorry for this salty true story, set in early '90s New York City. She's Lee Israel, a struggling yet unapologetic celebrity biographer. To pay the bills, she decides to forge and sell typed letters written by notable authors such as Dorothy Parker and Noel Coward. (Google them.) Though Lee is breaking the law, you'll be rooting for her to prevail over all the literati snobs. The fearless McCarthy is just that empathetic. (In theaters Friday, October 19)
Ben Is Back
The titular Ben is a reformed drug dealer (played by Manchester by the Sea discovery Lucas Hedges), who splits from rehab to spend Christmas with his family. His arrival sparks concern all around, but his loving superheroine of a mom (a magnificent Julia Roberts) is determined to only see the upside in his return. What starts out as a formulaic family drama turns into a thrilling, emotionally involving gem that plays out like the anti-It's a Wonderful Life. This is Roberts' most fully realized role in a loooooong time.  (In theaters Friday, December 7)
Vox Lux
It's Natalie, bitch. For her most outrageous role ever (and it's not close), Oscar winning actress Natalie Portman puts on her best glittery black catsuit and her gnashes her teeth to play a brazen pop star. She sings, dances, prances and more in a cynical examination of a social media-obsessed culture that processes grief by lionizing celebrity. This is an experimental, fascinating jumbled mess of a movie — at certain points, I was convinced I was watching either a work of art or a cynical, pretentious piece of trash. Sometimes I had these thoughts concurrently.Still, there's no denying Portman's moxie. (Release date TBA)
Fahrenheit 11/9
Outspoken documentarian Michael Moore will not go gently into that good night. Not with the Beltway on the precipice of disaster, anyway. He examines the genesis and the fallout of the 2016 presidential election, pointing fingers at liberals, conservatives and even himself. (In the 1990s, Moore and Donald Trump were chummy-chummy appearing together on Roseanne Barr's old daytime talk show!) Beyond the blame game, the filmmaker probes deeply into issues such as the gun rights, fair wages and the water crisis in Flint, Michigan. Incendiary stuff. (In theaters on Friday, September 21)
The Hate U Give
When it comes to adapting a beloved YA bestseller, this is as stellar as it gets. For those that didn't read Angie Thomas' novel: Starr (Amandla Stenberg) is a dutiful high school senior torn between her role as a classmate in an affluent prep school world and a daughter in her urban lower-class neighborhood. Then she witnesses a white police officer fatally shoot a childhood friend. What happens next is a poignant illustration of what it means to be black female teen at this very second. And Stenberg? Appearing in every scene, she single-handedly carries a heavy tearjerker.  (In selected theaters Friday, October 5; everywhere October 19)
Boy Erased
After 19-year-old Jared (Hedges again) admits to his small-town Baptist pastor father (a fantastic Russell Crowe) and his religious mother (a fantasticker Nicole Kidman) that he's had romantic thoughts about men, the two send him to a sexual conversion program. Eager to please his parents, he's a willing patient. Not for long. Director and co-star Joel Edgerton (The Gift) uses humanity to pull back the curtain on the sinister dealings behind-the-scenes at these "therapy" sessions. Based on Garrard Conley's memoir, this drama could provoke real change. (In theaters on Friday, November 2)
Roma
What if I told you that a 135-minute subtitled black and white film set in the early 1970s and starring nobody you know is a no-doubter masterpiece? Now consider that the person calling the shots behind the scenes is Alfonso Cuaron, the man who made Gravity, Harry Potter and the Prisoner of Azkabanand Children of Men. He's crafted a beautiful love letter to his childhood in Mexico that sneaks up on you in the most profound of ways. Don't be surprised when, come January, this is nominated for a slew of Oscars. (On Netflix and in theaters Friday, December 14)