Baywatch Is Not an Option: What to Stream on Memorial Day
Published on May 27, 2017
Get off the BBQ and on the Couch!
Because Baywatch, Pirates of the Caribbean and Alien: Covenant are Exhibits A, B and C of Hollywood laziness. Because Netflix queues are ridiculously overwhelming. Because you already binged on Master of None and Unbreakable Kimmy Schmidt. Because rain is in the forecast for much of the East Coast on Monday. Because reading about politics is soul-sucking. And because watching a movie on Memorial Day is the American way. (Well, it should be.) Here are four streaming options for your every need.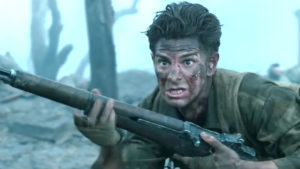 If you want to…. Commemorate the patriotic holiday
Try… Hacksaw Ridge (2016)
For people with long memories, it wasn't always easy to see Mel Gibson jovially work the awards circuit last year. But from a cinematic point of view, there's no denying that he crafted an uplifting drama worthy of a looksee. This is the true story of Desmond Doss (Andrew Garfield, well-cast), a pacifist who enlisted in World War II and saved dozens of lives without ever picking up a weapon. Gibson, an Oscar winner for Braveheart, shows no mercy in depicting the brutalities of battle. (Think literal blood and guts.) All the more reason to be inspired by Doss' courage.
Available to stream: ITunes, Amazon
Alternates: Saving Private Ryan, Lone Survivor, Zero Dark Thirty, The Hurt Locker, Flags of our Fathers, Platoon
If you want to… celebrate the unofficial start of summer and the ability to wear white jeans
Try… Wet Hot American Summer (2001)
What's that? You still haven't seen the cult comedy about the horny counselors over at Camp Firewood? Tell no one and get up to speed pronto. Or just lovingly pay a revisit. On the melancholic last day of camp, the counselors — played by the likes of Amy Poehler, Paul Rudd, Janeane Garofalo, Bradley Cooper, Molly Shannon, Elizabeth Banks, Josh Charles and jeez, props to the casting director on this one — pay more attention to each other than their campers. Yay, negligence! The cafeteria lady humps a fridge. Rudd complains to his camp girlfriend that she tastes like a burger. Later, catch the 2015 prequel, Wet Hot American Summer: First Day of Camp. Though everyone looks 15 years older.
Available to stream: Netflix
Alternates: The Sisterhood of the Traveling Pants, Weekend at Bernie's (don't judge), Taking Woodstock, National Lampoon's Vacation, Adventureland
If you want to…. Be grateful for a day off from the grind of work
Try… In Good Company (2004)
"I totally phoned in that Dennis Quaid movie!" A hyped-up Topher Grace shouted that line to Brad Pitt early on in Ocean's Twelve. It was a throwaway in-joke, though in reality, his performance in this way-smart comedy is his best to date. He's an advertising hot shot hired to supervise an exec (Quaid) twice his age. Grace runs the show in the office, but it's Quaid who offers the most expertise in life. The only villain here: Corporate culture. In an age of job-shift pandemonium, the 13-year-old film is the opposite of a period piece as it becomes only more relevant over time. It also features a winning (and rare supporting) performance from Scarlett Johansson as Quaid's daughter.
Available to stream: Netflix, Amazon
Alternates: Office Space (duh), Up in the Air, The Devil Wears Prada, Broadcast News, Clerks, 9 to 5, The Internship
If you want to…. Instantly get caught up all on the great movies of 2017
Try… Get Out
This is the one and only option. Writer-director Jordan Peele's runaway hit movie — about Chris (Daniel Kaluuya), an African American man dating a white woman, Rose (Allison Williams), and experiencing the weekend from hell at her parents' upstate abode — is that rare wildly original horror film and topical social commentary in which none of the characters are who they appear to be. Multiple viewings are required just to catch all of Peele's sly winks, let alone lock down all facets of the main mystery. (Even Williams' red-and-white striped sweater and blue jeans, above, can be interpreted as a sublime fashion take on usage of the American flag.) Extra-credit analysis: Will Peele's screenplay get an Oscar nomination?
Available to stream: iTunes, Amazon
---
Also published on Medium.