Amy Schumer's Comedy 'Snatched' Hits the Mother Lode — Well, Almost
Published on May 9, 2017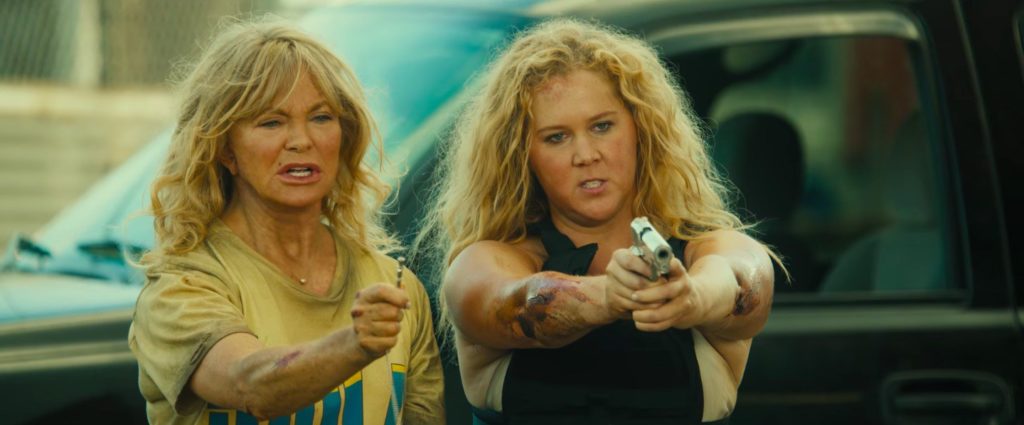 Goldie Hawn in talks to play Amy Schumer's mom in Fox comedy."
When that headline made the social media rounds in February 2016, it was impossible to not feel a little giddy. The talented Schumer, of course, had just become a totally unapologetic movie star thanks to her Trainwreck. And Hawn, a brassy comedy treasure, hadn't appeared in a film since 2002. This was gonna be good. Maybe even great.
Fifteen months later, a Variety news bulletin has turned into Snatched. (Ugh, just typing the vague and uninspired title alone makes me wince.) This is not the mainstream comedy classic we all envisioned — but in terms of delivering laugh-out-loud laughs, the zippy film hits the mother lode.
(Fine, it occasionally hits the mother lode. That pun is too irresistible.)
Schumer plays Emily Middleton, not that it matters. Her character is yet another variation of the comic's self-deprecating, emotionally stunted persona. About five minutes pass before the first wiseass pop culture reference; 15 minutes before the first drinky drink. This is a fact, not necessarily a complaint. After her boyfriend breaks up with her, she's desperate for a plus-one substitute for what would have been a romantic trip to Ecuador. None of her friends want to travel South of the border. That leaves only one person.
To the film's credit, Emily doesn't hoodwink her mom (Hawn) into tagging along or roll her eyes about the decision. From their first onscreen interaction, it's clear they have an exasperating yet tight-knit bond that's all too relatable. (A Facebook wall is intended for public consumption, mother!) Emily knows that her overly neurotic, set-in-her-ways suburban mom needs some serious adventure in her life. And this getaway offers the ideal escape. Besides, "it's non-refundable!" Emily implores. "Let's put the fun in non-refundable."
A mom and daughter vacationing together in exotic South America offers infinite comedic possibilities. Just the sight of Schumer lounging in her bikini next to a way-covered-up Hawn ("you look like Powder!"), poring over a cat magazine, amuses. It's anticlimactic when the two have a literal run-in with a few bad guys with accents and get kidnapped.
There's loose mention of a ransom, and a few gunshots to boot. But the plot twist is essentially an excuse for a generational romp in the wilds. See Emily and Linda ride in the back a van in Colombia, befriend a kooky American (Christopher Meloni) and debate whether to use a weapon as their frizzy hair tragically expands in the humidity. The results are mixed — their interactions with Meloni are delightfully droll while a call for help to a gruff official in Washington D.C. distracts from the action. (Same goes for Schumer's immature brother back home, played by Ike Barinholtz. Some sidekicks should never leave the sidelines.) One set piece involving a tape worm is so crazy absurd that I blurted out to my screening companion, "I can't believe I'm laughing at this dumb movie!"
So why does the film feel like a wasted opportunity? Perhaps because there hasn't been a comedy centering on two adults stranded in the jungle since Romancing the Stone way back in 1984. (PSA: Stream it!) Whereas that film sparkled with twists and smart humor, this one never goes beyond exactly what's expected of it. The screenplay, written by Katie Dippold (Ghostbusters, The Heat), follows a familiar pattern of bickering, bonding, bickering, bonding. Just because nobody's life is in jeopardy doesn't mean that the action has to be the lowest common denominator of slapstick.
Hawn, in particular, is ill-served in the role of Schumer's straight man. The actress who had the moxie to coach a boys' high school football team in Wildcats and blackmail her conniving husband in The First Wives' Club is little more than a passive and frumpy worrywart here. After a 15-year layoff, she deserved better than literally being holed up in a South American cave. An epilogue in which she dances in a hot tamale red dress is a tantalizing tease for what could have been — or what may be in a sequel.
But on a movie opening weekend in which Charlie Hunnam languishes in a generic, ultra-violent rendition of King Arthur, let's not slag too much on this warm-hearted effort. Unlike Mother's Day, mom-daughter comedies aren't an annual tradition. It's OK to embrace it.
(Snatched opens in theaters Friday, May 12.)
Rating: