Christian Grey! Black Panther! Five Reasons To See February Movies
Published on February 2, 2018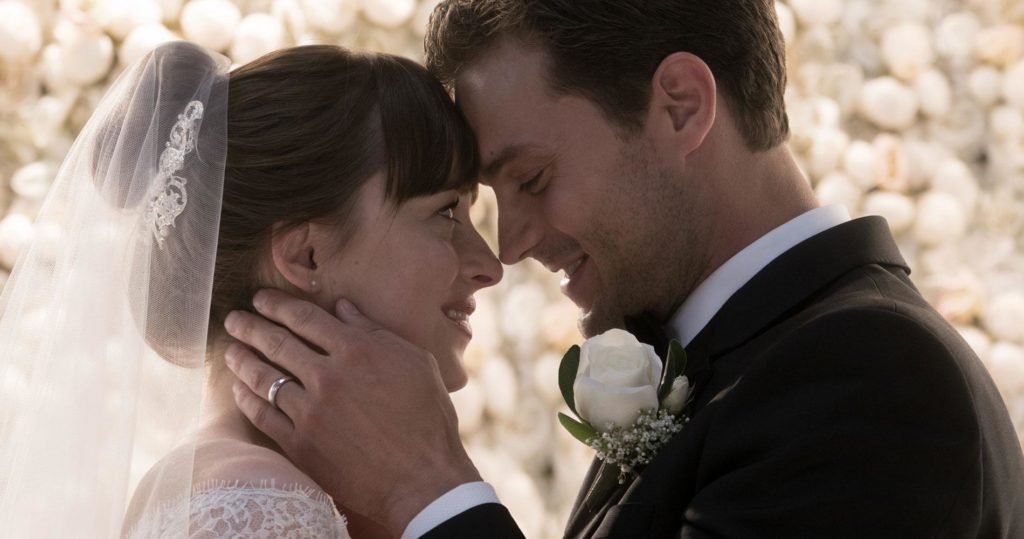 Congrats! You survived January — only the worst month on the calendar in terms of breaking New Year's resolutions, depressingly bleak weather, disappointing Oscar snubs and unfortunate movies. (Don't even start with Maze Runner: The Death Cure. YA dystopia deserves better!) Now we're on to February, the cushy winter home of recent favorites such as Get Out, Deadpool, The Lego Movie and Kingsman: The Secret Service. Here are five reasons to get out, bundle up and head to the movies. After all, Arie Luyendyk isn't going to get any more riveting as the weeks pass.
1. Black Panther to the Rescue
He's the first black comic-book superhero to get the big-screen star treatment. That sentence alone makes Black Panther an important groundbreaker. But based on the wild social media reaction from the world premiere, director Ryan Coogler (Creed, Fruitvale Station) has crafted a dynamite, action-packed epic that ranks among Marvel's splashiest adaptations. Chadwick Boseman (42, Get on Up) stars as T'Challa, king and protector of the African nation of Wakanda. Michael B. Jordan, Forest Whitaker, Angela Bassett, freshly minted Oscar nominee Daniel Kaluuya and Lupita Nyong'O round out the mighty cast. (In theaters Friday February 16)
2. We're Finally Freed
The Fifty Shades Freed advertisements warn with a heavy wink, "Don't Miss the Climax." Maybe English majors should inform the marketers that this third installment is actually the denouement. Either way, here's your last chance to watch brooding billionaire Christian Grey (Jamie Dornan) and his now-wife, Anastasia (Dakota Johnson), go to funkytown. The first two films were shamelessly craptastic, save for the sultry soundtracks. There's no reason to think the finale won't submit. See? I can write sex puns too. (In theaters Friday, February 9)
3. Heroism on the Clock
In August 2015, three American friends traveling through Europe thwarted a terrorist attack on a high-speed Paris-bound train. The story of Anthony Sadler, Alex Skarlatos and Spencer Stone is depicted in the thriller The 15:17 to Paris — and, in an interesting if not unprecedented twist, the brave men are front and center playing themselves. There's a recognizable name behind the camera, though. His name is Clint Eastwood, and he most recently reenacted the white-knuckler plane crash in the heroism-under-pressure drama Sully. (In theaters Friday, February 9)
4. Natalie Annihilates
The intriguing plotline: A biologist (Natalie Portman) volunteers for an expedition into an environmental disaster zone to figure out what happened to her gravely injured solider-husband (Oscar Isaac). Now consider that the film is written and directed by Alex Garland, the auteur behind the mesmerizing and quietly haunting original thrill ride that is Ex_Machina. Plus, the cast also features Tessa Thompson, Gina Rodriguez and Jennifer Jason Leigh. Expectations are officially sky-high. (In theaters Friday, February 23)
5. Fun and Games!
Fifty Shades Freed aside, the only mainstream comedy of the month belongs to Game Night. And this one has an edge. Jason Bateman and Rachel McAdams play a couple whose harmless murder mystery party goes awry when a purported crime becomes All. Too. Real. Doesn't this sound suspiciously like a funny version of the underrated 1997 David Fincher gem The Game? Anyone? No matter. Bateman and McAdams are comedy pros, and beloved Friday Night Lights alums Kyle Chandler and Jesse Plemons are in the ensemble. Deal me in. (In theaters Friday, February 23)
---
Also published on Medium.