O, Yes! Fifty Reasons To See 'Fifty Shades Freed' (Seriously)
Published on February 8, 2018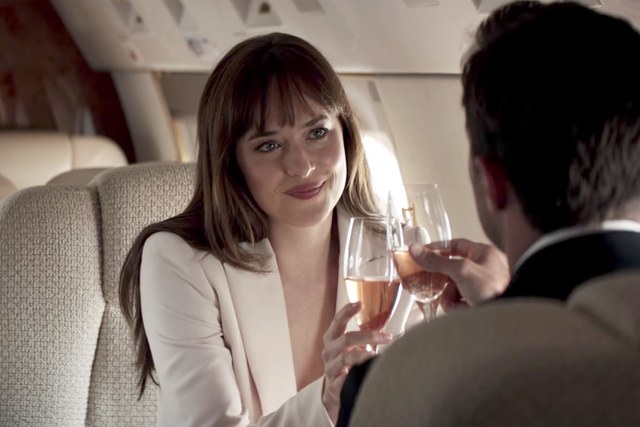 I'm all yours, Christian Grey. Lead me into the Red Room, give me some popcorn and my white noise machine, and we're Gucci. I have officially stopped kicking and screaming about the eye-rolling Fifty Shades of Grey saga. And It's not like I was blindfolded and led into the wrong movie theater. With the climactic Fifty Shades Freed, the tale of a domineering brooding sex-obsessed billionaire (Jamie Dornan) and his wide-eyed love (Dakota Johnson) has gone from dull drama to campy delight. So, at long last, here are 50 reasons why you should turn off your brain and submit. It's been a pleasure.
The communal experience of watching Fifty Shades Freed in a crowded movie theater is just as enjoyable as a midnight showing of The Room. Though the film is not intended as a comedy, the laughs are a-plenty. Every moment is delicious in its absurdity, yet the characters on screen are the only ones that don't seem to realize it. Can't wait to see who's going to play Dornan and Johnson when this franchise becomes a Disaster Artist-esque movie.
The newly married couple take a small private jet directly from Seattle to Paris for their honeymoon. Is Elon Musk behind this technology?
Something old, something new, something borrowed, something blue. And handcuffs.
Ana waits until after the honeymoon to ask her husband if he's at all interested in having children.
The run time is a mere 105 minutes.
The original was 129 minutes. Spend those extra 24 minutes with someone you love.
Rita Ora, as Dornan's sister, has something to do in this installment! Weird.
Johnson's lush brown hair looks gorgeous in every scene. Girlfriend is nearly kidnapped in her own home and she still arrives to work the next morning looking as if she just got a DryBar blowout. That's dedication.
Ana gets a fancy promotion at her publishing company while she's on her honeymoon. And even though her boss' boss' boss' boss is one Christian Grey, her staffers insist she deserved it because she's such a talented hard worker!
She wears stilettos and black stockings to the office. Did I mention it's a publishing company and it's not 1998?
The happy couple's brilliant architect bears a strong resemblance to a porn star.
Ana wears an impressive array of cozy white cable-knit sweaters.
On the soundtrack: David Bowie's "Young Americans" and an sultry version of INXS' "Never Tear Us Apart."
And Ellie Goulding, obvs.
Ice cream sex.
In a nice change of pace, Dornan and Johnson share a discernable trace of chemistry. Perhaps it's because they can see finally the light at the end of their contracts.
Butt plugs!
Shampoo as an aphrodisiac.
An independent heroine for all, Ana wants to use her maiden name at work so she can keep some semblance of an identity.
"I don't want kids. I'm not ready to share you with anyone!"
We're finally done wasting time on Christian's wounded psyche of torment. Ok, ok, we get it. You have family issues and an older woman used and abused you. Save it for a Ryan Murphy limited series and get on it with your life.
It's a romantic drama, lightweight S&M romp and a thriller! Ana and Christian, you see, are stalked by a deranged ex-employee (Eric Johnson) who demands revenge at any cost.
One of the Fifty Shades Freed cast members shares a name with Jessica Simpson's husband.
In an attempt to go incognito, Ana shows up in a courtroom in dark sunglasses.
This is me! Dornan gets to show off his singing chops.
He plays piano too. Baby, you'll be amazed.
Here's your chance to see an extended Audi commercial in the middle of a theatrical film.
The honeymoon handcuffs serve more than one purpose.
Christian might know how to handle a vibrator, but Ana knows how to handle a gun.
Because we still love 2001 Best Supporting Actress Oscar winner Marcia Gay Harden.
Red room of pain sex.
Sooooo much intrigue: It turns out that Christian and the stalker both grew up in a foster home in Detroit.
I grew up in the D too. Our beloved underdog city will take any shout-out it can ge.
"There are boobs in boobland."
Christian still doesn't know how to smile. Though he does cry.
Apparently, this is a big deal?!
Ana spends long-awaited QT with her best friend, Katherine (Eloise Mumford). Mind you, Christian fries her for it.
"I'm not ready to figure this out!"
Car sex
"Your bodyguard is hot". . . . "Can you find a spot for him?" . . . "I might have an opening."
Ana makes a pretty funny joke about how siblings are conceived.
Ana rolls her eyes at her husband on his private plane. We'll take it.
Johnson is top-billed over Dornan. We'll take that too. But this better not be a Michelle Williams reshoot-pay situation.
If these crazy kids can survive their stalker, they're going to make great parents!
Fifty Shades Freed plot spoilers aren't a turn-off.
Shower sex
Truth: It's more entertaining than Phantom Thread.
Always protective of his wife, Christian forbids her from sunbathing in the nude because the photos might wind up in the pages of "a sleazy tabloid." Forget that nobody ever recognizes him in public.
We get closure, thank goodness.
Have you seen the news lately? A little escapism can't hurt.
Fifty Shades Freeds opens in theaters on Friday, February 9
---
Also published on Medium.