October Streaming Surprises! 'The Trial of the Chicago 7' Wins, 'Rebecca' Sins
Published on October 22, 2020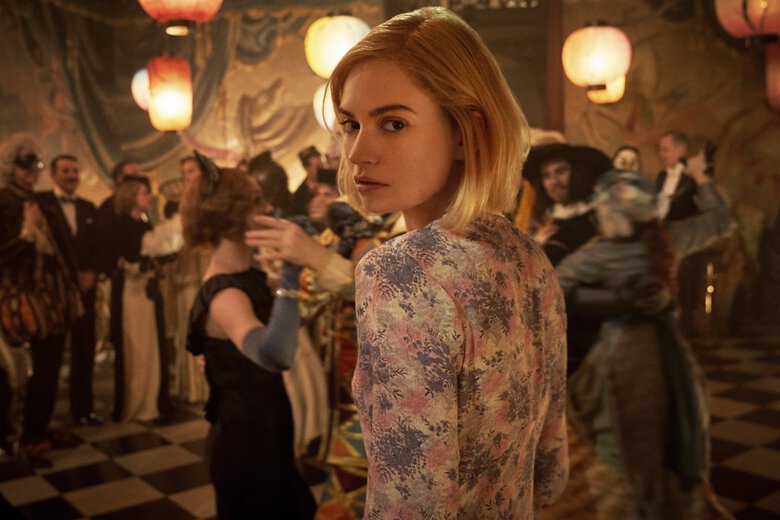 Don't look now but we're already deep into October. And in any other year, that means we'd be knee-deep into the Serious Movie Season. With the fall film festivals wrapped, the Oscar prognosticators would be making their lists and checking it twice as if they're proxies of Santa up in the North Pole. This would inevitably lead to social media hot takes. Lordy, I never thought I'd say this but I'm actually nostalgic for Joker discourse. It all seems so quaint in 2020, doesn't it? But just because the cineplexes have primarily and tragically gone dark doesn't mean that the moving images have stopped flickering. Thanks to the wonderful world of streaming, several intriguing new options are available at your fingertips. To be sure, they're not all top-shelf contenders. Your time, if not your money is still valuable during a pandemic. (And it's just a fact that the cinematic product has been diluted this year, especially with so many high-profile releases bumped to 2021 and beyond.) Here's your October rundown. Sorry, Rebecca.
The Trial of the Chicago 7
3.5 stars (out of 4)
Nobody can craft an under-oath scene like the great Aaron Sorkin. For his latest crackling and super-satisfying drama, the Oscar-winning screenwriter — he's written classic lines like "you can't handle the truth!" (A Few Good Men) and "if you were the inventors of Facebook, you'd have invented Facebook!" (The Social Network) — devotes nearly his entire fact-based narrative to the inside a courtroom. That's where seven anti-war activists are on trial for clashing with the police during the 1968 Democratic National Convention in Chicago. Tensions are high and justice doesn't necessarily prevail. The top-notch cast includes Eddie Redmayne (not wearing period garb!!!), Sacha Baron Cohen (doing a decent Massachusetts accent!), Jeremy Strong and Michael Keaton, all of whom speak with conviction and yet never resort to histrionics. Indeed, though the film is not as flashy as Sorkin's previous works, it works because he keeps the story smart, steady and compelling from gavel to gavel. (Cohen, playing protester Abbie Hoffman, wryly notes that he's never been tried in court just for having an idea.) And in 2020, the message can't be shaken off so easily. (Netflix)
S#!%house
3 stars (out of 4)
Truly truly truly truly terrible title, wonderful movie. Directed by and starring a 23-year-old handsome wunderkind named Cooper Raiff (he also wrote the screenplay), it's about a homesick and desperately lonely college freshman struggling to adjust to his new life. His boorish roommate (Logan Miller) is a jerk. A harmless phone call with his mom (Amy Landecker) leaves him in tears. Lordy I have been there. He converses with his childhood stuffed animal. Then one night after a party at the school's raucous "s#!%thouse," he forms an instant bond with his RA (Dylan Gelula, Shameless). Their thoughtful and funny marathon conversation is akin to a Gen Z version of the Before Sunrise trilogy, only with more angst. It's no wonder this warm-hug-of-a-movie won the coveted Grand Jury Prize at the 2020 SWSX Film Festival. Worth your time. (PVOD)
The Forty-Year Old Version
2.5 stars (out of 4)
Drawing a blank when you hear the name Radha Blank? That will soon change, thanks to her heartfelt and scrappy autobiographical Sundance Film Festival award winner — which, despite some pacing issues, is an impressive directorial debut. Blank also writes and stars, portraying a 39-year-old Brooklyn playwright and teacher who's worried that she's already past her prime. "I just wanna be an artist!" she bemoans to herself. As a creative and cathartic outlet, she starts rapping and finds her voice. Wry, charismatic and self-effacing, Blank is unafraid to show her audience the essence of her struggles as an African-American woman of a certain age. (The older, wealthy producer of her new play has trouble connecting with her.) But the dramedy, unnecessarily filmed mostly in black and white and running a whopping 129 minutes, could have benefited from one more edit and one less big idea. Save something for age 41 and beyond! (Netflix)
On the Rocks
2.5 stars (out of 4)
The talented Bill Murray and Rashida Jones work extra hard to keep the spirits flowing in this uneven comedy. A frustrated Brooklyn writer (Jones) is worried that her marriage to her businessman husband (Damon Wayans) may be crumbling. She confides her fears to her dad (Murray), himself a rakish and droll art deal who prefers the company of a class cocktail to a wife. The two soon play detective around Manhattan, but their adventures are essentially a way for the father and daughter to course-correct their relationship. Screenwriter/director Sofia Coppola (Lost in Translation) brings a slightly detached vibe to her lightweight narrative. Stars cruising around a big city in a convertible only goes so far; witty, urbane humor is needed, along with wry insights about relationships. There's so much fizz here but little substance. (Apple TV+)
Kajillionaire
2.5 stars (out of 4)
Quirky indie comedies typically go one of two ways: refreshingly charming or insufferably strange. This entry — a Sundance Film Festival selection, of course — is a mix of both. Old Dolio (Evan Rachel Wood) is the only child of two veteran con artist drifters (Debra Winger, Richard Jenkins). At age 26, she speaks in a monotone pitch, dresses in baggy clothes and is essentially on the outs with society. She slowly comes out of her shell once an ebullient stranger (Gina Rodriguez) joins the scheming. Though Rodriquez excitedly references Ocean's Eleven early on, it's a red herring as the intriguing plot soon takes a hard shift from minor-key caper to character study. The change leads to a series of scenes that attempt to hit on too many ideas. But Wood and Rodriguez are money in the bank.
Rebecca
2 stars (out of 4)
This remake is part gothic ghost story, part-thriller, part-romance, part-whodunnit and all disappointment. A pretty and naïve newlywed (Lily James) arrives to the imposing English estate of her aristocratic husband (Armie Hammer, trying a British accent) after a whirlwind romance in the Mediterranean. Things go south when our heroine becomes haunted by the presence of the first missus, Rebecca, and learns that her aloof husband is not telling all about her death-by-sea. Even if you squint hard, you'd be hard-pressed to see a resemblance to the 1940 Best Picture Oscar-winning, Alfred Hitchcock-directed classic of the same name. The gripping tension and sense of urgency have been zapped, while some of the notable set pieces — she unknowingly wears Rebecca's costume during a fancy masquerade ball! — just come off silly. Kristin Scott Thomas keeps a stiff upper lip as the housekeeper, though I'm pretty sure she's acting in another movie. Feel free to ghost. (Netflix)
---
Also published on Medium.