Early 'A Star Is Born' Review: Lady Gaga Dazzles in an 'Irresistible' Musical Romance
Published on September 1, 2018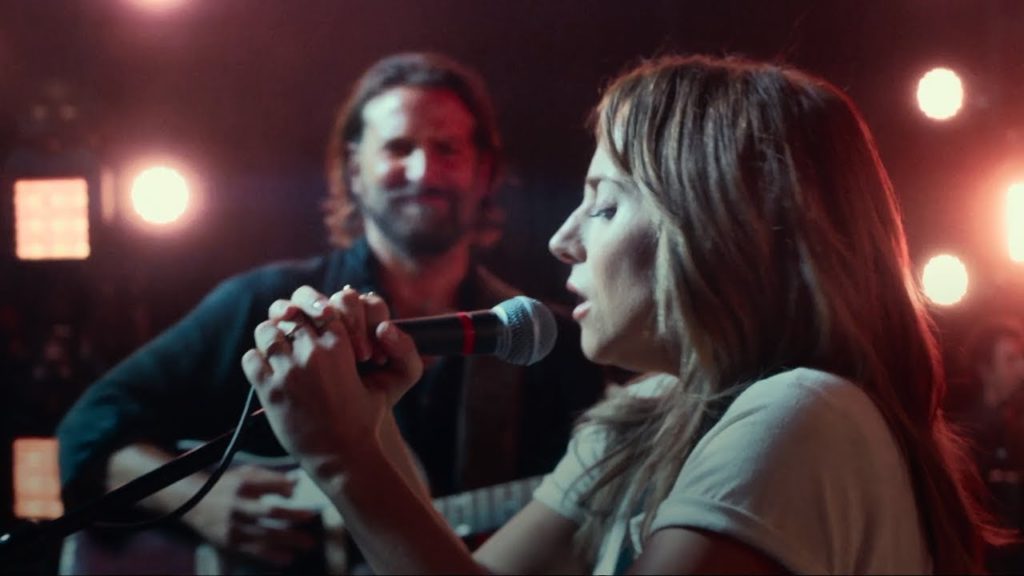 So this is what Lady Gaga looks like. Mousy shoulder-length brown hair protecting a delicate Picasso-shaped face. Fair complexion with a few faint freckles, defined nose, almond eyes. In the moving and exhilarating A Star Is Born, Bradley Cooper — making his directorial debut — likes to place the camera right on her face and zoom in. He captures the pop chameleon at her vulnerable and triumphant moments. With his on-camera help, she becomes a star. With his off-camera help, she becomes an actress.
If nothing else, the fourth retelling of the classic A Star Is Born proves the ultimate talent showcase for the New Yorker born Stefanie Germanotta. Playing an aspiring singer named Ally, she croons, dances, plays piano and co-writes her material, and if you told me that she also served as the gaffer and director of photography, I'd believe it. Her buzzy movie has a lot going for it, including a vibrant soundtrack and compelling performances all around. Oscar nominations for Best Song are in thke bag. But this petite dynamo's dazzling gifts are the biggest takeaway, by far.
We meet him first. Cooper's Jackson Maine is a popular country star and a tortured soul, not necessarily in that order. After a concert, he chugs vodka straight from the bottle in the backseat of his chauffeured van. Palpably isolated, he asks the driver to pull over to the closest bar because he's not ready to go home. Despite his fame — the guy checking IDs at the door fawns over him — he keeps a low-profile in a corner. Then his glassy eyes focus and fixate on the woman on stage belting out the French standard "La Vie En Rose." Wowza. A romance is born.
Their chemistry runs hot at the outset. Backstage, he introduces himself and then asks if he can remove her taped-on "costume" eyebrow. That tender, weirdly intimate move is all it takes. They spend all night together, downloading their deepest thoughts. Jack is may be wildly successful, but he detests hearing his own music on the jukebox and uncomfortable with his fame. Ally is a struggling waitress and reluctant to fulfill her musical dreams. She's self-conscious about her appearance, especially after a label honcho informed her that her nose is too crooked. Though they don't sleep together, the two realize that something special is in the air.
The titular birth occurs when Jackson cajoles Ally into coming on stage with him mid-concert and sing a duet on one of her original numbers. When you re-watch the movie — and you will, trust me — this scene will be the one you anticipate the most. The song, "Far From Shadow," is a stirring beauty, and it's a thrill to watch Gaga and Cooper craft musical magic together. The woman sings with every muscle of her body, starting with her heart. Ally's moment goes viral, naturally. It leads to more duets, which leads to a record deal, which leads to a glam makeover ("I don't want to be a platinum blonde!" she tells her manager), which leads to an acclaimed debut album, which leads to high-profile gigs, which leads to stardom.
Ally's rise happens that quickly. And given that her arc is central to the narrative, I wish Cooper would have let her story breathe. He never indicates how much time has passed, making it seem like she goes from a blue-collar waitress to an A-list pop star in a hazy blink. In consecutive sequences, she performs on the May season finale of Saturday Night Live and then celebrates prestigious Grammy Awards nominations — a curious timeline, as the Grammys are held in February. (Details matter.) Ally also adapts to the spotlight with ease, rarely seeming flummoxed or overwhelmed. There's a danger in glossing over her journey: At certain points, I wasn't sure where the character ended and Lady Gaga herself began.
Unfettered by her newfound status, Ally instead pours her energy into the love that ignited her career and has already fallen into the traps of fame. Cooper's portrayal of a broken-down man is a heartbreaking wonder. Speaking in a low-octave growl and looking like he hasn't showered in a month, Jackson carries himself as if he's fully aware of his impending doom. The drunken, grizzled star isn't exactly a novel character — Jeff Bridges won an Oscar for a similar role a decade ago in Crazyheart. But Cooper, who also does his own plaintive vocals, has never exposed himself like this. That adds an extra layer of fascination. (Amusing foot note: Cooper the director tips his hand by casting a few of his former Alias co-stars in small roles.)
A Star Is Born tries very, very hard to be the most emotional movie of 2018. I'm not convinced it wins on that front, but I can say it gets the prize for most hysterical melodrama. Take it as a compliment. There's reason this classic story has been kicking around since 1936: A film that encapsulates extravagant fame and fortune, family demons, romance travails, top-shelf tragedy and bathtub sex amid an industry that chews people up only to spit 'em out is impossible to resist. And version No. 4 overdoes the histrionics on all the above. The frenetic whirl isn't authentic, but, then again, neither is Hollywood.
Strip it all away, and we're left with two lonely souls that find and love each other. And in the darkness, one manages to shine brightest of all.
A Star is Born, which recently premiered at the Venice Film Festival, opens in theaters on Friday, October 5
Rating: