Meet the 10 Buzziest Movies from the 2020 Sundance Film Festival
Published on January 31, 2020
"I saw it at Sundance." Every fan of prestige movies — as in, movies that don't feature franchise superheroes or ear-splitting explosions or a blooper reel over the closing credits — knows there's a cache associated with that phrase. The Sundance Film Festival in Park City, Utah, after all, is where beloved indies make their first stop en route to Oscar-ville a full year later. (It's also where celebrities make unwieldy snow boots look super-stylish, but that's another post for another time.) Did you catch Eighth Grade or Boyhood or Whiplash or Call Me by Your Name? Or Brooklyn or Before Midnight or Mudbound or RBG? Yup, I saw it at Sundance.
The 2020 edition was unofficially the year of the woman. The opening night selection was the fascinating and intimate Taylor Swift tell-all Miss Americana. Hillary Clinton showed up for the premiere of her documentary two days later. Another documentary, which tackled #MeToo, earned three standing ovations during its premiere. And, ahem, more than half of the movies were directed by females. Read about these 10 standouts now; see them soon; debate them for years to come.
Downhill
Hey, what if Will Ferrell and Julia Louis-Dreyfus costarred in a movie that's more fraught drama than laugh riot? In this English-language remake of the black comedy Force Majeure, a long-married couple seriously re-examine their relationship during a disastrous family vacation in the Italian Alps. Awkward, biting (especially when taking on social media) and surprisingly sobering. It also proves that the Louis-Dreyfus has won all those Emmys for a reason. (In theaters Friday, February 14)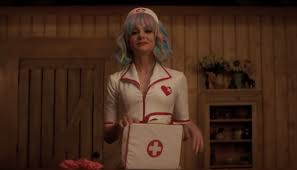 Promising Young Woman
Try not to read too much about this amazing genre-twisting mindbender, which takes on toxic masculinity — and Britney Spears' "Toxic." In fact, I'll keep this plot purposely vague: Carey Mulligan has never been better as the titular woman confronting the traumas of her past while pursuing a new romance. Despite the wild tonal shifts, it all comes together in breathlessly unexpected ways. Shout-out to first-time writer-director Emerald Fennell (Killing Eve) for delivering the goods.  (In theaters Friday, April 17)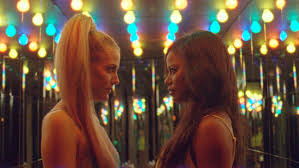 Zola
Otherwise known as the surreal and totally trippy and over-stylized stripper movie that led to both critical praise and mass audience walkouts. Fun! Based on a crazy-long Twitter thread, it depicts what happened when two exotic dancers (Riley Keough, Taylour Paige) headed to Florida to make some quick moolah. Things spiral out of control in a hurry. I must admit that I fell into the "WTF is this?!" camp, but at least I got to see Cousin Greg from Succession as a wannabe gangster. (In theaters this summer)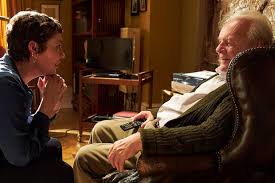 The Father
Calling it now: No matter what happens in cinema over the next 11 months, Olivia Colman and Anthony Hopkins will be major players in the 2021 Oscar race. The two marvelous actors are at the center of heartfelt and deeply tender drama about a daughter trying to cope with the effects of her father's progressive dementia. The film is actually told from the Hopkins' POV, giving audiences a sense of unbalance as the disease takes a devastating toll.
On the Record
No Oprah? No problem. Though co-producer Oprah Winfrey pulled her support from this #MeToo doc just weeks before the premiere, the searing and utterly credible film — in which several women accuse hip-hop Def Jam Records mogul Russell Simmons of sexual assault and misconduct over the course of several decades — still brought an audience to its feet during its premiere. Three times.
Palm Springs
Lookie, a comedy! It's a clever and charming one to boot. Andy Samberg and Cristin Milioti are a pair of cynical bandits looking for love and meaning in life while stuck in a time loop. (Indeed, they wake up every day miserable in sunny Palm Springs, California). Think a raunchier version of the classic Groundhog's Day and just as endearing. This one sold for a record-breaking $17 million to Neon Studios.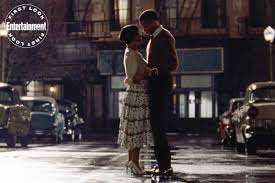 Sylvie's Love
In 1957 New York City, dreamer Sylvie (Tessa Thompson) can't help but fall for a sweet saxophonist (Nnamdi Asomugha) while her fiancée is overseas at war. Though time passes and they lose touch and move on with their respective careers, their flame never burns out. This one reminded me a lot of Brooklyn, which was only my favorite film of 2015. You'll love the pair's gorgeous, appealing and romantic story.
The Nest 
The trouble starts when a British businessman (Jude Law) convinces his American wife (Carrie Coon) to uproot from their comfortable confines of New York City to London. A better life for them and their two children awaits, he promises. Then the layers of this wealthy family are meticulously peeled back to chilling effect, revealing emptiness underneath. This is an unnerving sit, but an emotionally resonant one.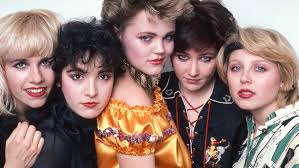 The Go-Gos
They got the beat, they got the beat, they got the beat . . . still. In this winning warts-and-all music doc, the Go-Gos — still the first and only all-female group to play instruments and write their own material and land a No. 1 album —detail their ups (sold-out tours!) and downs (drugs!) and more downs (in-fighting over money) and ups (reunion!) again. All the hits are here, and a brand-new song plays over the closing credits. Viva Belinda Carlisle 4EVRRRRR.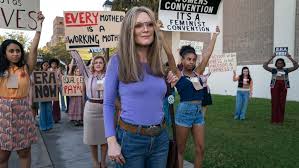 The Glorias
Gloria Steinem's life is so rich and expansive that it takes four actresses to play her, including two Oscar winners in Alicia Vikander and Julianne Moore. In case you know only the broad strokes of feminist icon's life, this biopic will get you up to speed and thensome as director Julie Taymor traces her journey from introverted bookworm to quick-witted journalist to outspoken activist. Steinem is still going strong, as evident in the film's closing scene — and by the fact that she was on my red-eye flight from Utah back to New York!