Cannes Diary: What Unforgiven, All That Jazz, A River Runs Through It and Eyes Wide Shut Have in Common Here
Published on May 21, 2017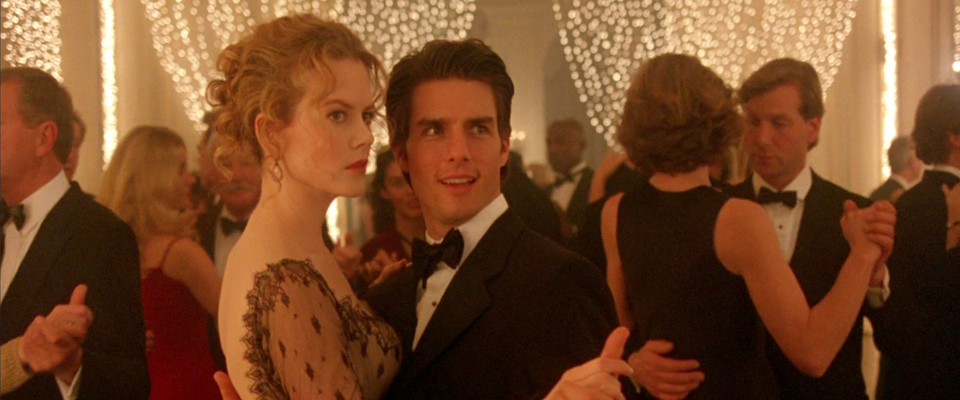 A third grader could take a photo of the Boulevard de la Croisette on this Saturday afternoon and turn it into a postcard. The sun-kissed scene along the Riviera is just that effortlessly beautiful. And yet I am hovering around the Salle de Bussy theater, anticipating my next screening. Everyone wants to be out. I need to be in.
The movie, by the way, is 25 years old.
Here's the dirty little secret surrounding the pedigreed "Selection Officielle Competition" projects at Cannes: A few of them are insta-cures for jet lag-induced insomnia. (Don't ask me about the second act of The Lobster.) That's why I look forward to reading the page of the scheduling guide titled "Cannes Classics." Every day, at least two vintage movies get a fancy re-screening, complete with an introduction by "a personality linked to the film." No matter what movie I choose, I know I will not be disappointed.
On the docket this year: Bob Fosse's dazzling autobiographical musical All That Jazz, a pre-superstardom Brad Pitt in the Robert Redford drama A River Runs Through It and…. Unforgiven.
Director and star Clint Eastwood himself was on-hand to introduce his revisionist Western, which racked up four Oscars back in 1993 including Best Director and Best Picture. Now 86 and lithe as ever, the star received a standing ovation befitting a true matinee hero as he walked into the theater. "I always thought this would be, when I read the script 25 years ago, a good last Western for me to do," he explained on stage. "And it was the last Western because I've never read one that worked as well as this have. But who knows. Maybe something good will come up in the future." (More applause.)
I had only seen Unforgiven one time — a former Us Weekly coworker, now a TV writer, lent me his DVD more than a decade ago and instructed me to watch it. I was enthralled and utterly terrified by Gene Hackman's portrayal of a maniacal, misogynist sheriff. Watching it again in a theater, all those feelings came back in tenfold. Meanwhile, the vast dusty landscapes in Wyoming circa 1880 looked positively majestic. As the film played, I also couldn't help but occasionally look over across the aisle at Eastwood watching himself up there. Some actors hem and haw about their discomfort seeing their own films. The man sat there spellbound. He never even fidgeted.
The Cannes Classics also includes fresh selections that pay homage to the past. The wonderful documentary Filmworker is a prime example. It focuses on a man named Leon Vitali who costarred opposite Ryan O'Neal in Stanley Kubrick's 1975 drama Barry Lyndon. It was a breakout performance, and his star brimmed with potential. But Vitali was so fixated on the director's unique artistic vision that he gave up his career to be his assistant/consigliere/right-hand man. Remarkable.
That is Vitali, now a gangly 68 year old that could pass for a roadie for the Rolling Stones. In the film, he details how and why he gave up his life for the mad genius. (Vitali once set up video feeds in every room of Kubrick's home so Kubrick could watch round-the-clock video footage of his ailing cat.) The confessional interviews are spliced with scenes from Kubrick's eclectic oeuvre — 2001: A Space Odyssey, The Shining, Full Metal Jacket, Eyes Wide Shut. The most deeply unsettling scenes. (I get chills just thinking about those freaky twins in The Shining). On TV, I can just turn it off or press forward. On a big screen, there's no escaping the mayhem. I was especially haunted by the footage for 1999's marital drama Eyes Wide Shut. Kubrick fired some actors mid-production in London and insisted on dozens upon dozens of takes from stars Tom Cruise and Nicole Kidman. He died before the film was even released, making each frame of the film ripe for subtext.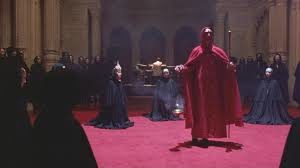 The creepy sequence at the masquerade party in which Cruise gets a tongue-lashing from the mysterious Master of Ceremonies? (Hint: see above.) That's Vitali behind the mask.
I understand why people are reticent to leave the comfort of their own homes and pay big bucks on an iffy new release. I can't count how many times I've recommended a new release to friend, only to hear the response, "Eh, I'll catch it on Netflix." Fine. I don't like to be generous with other people's time or hard-earned money and, sadly, I don't have stock in any film studios. Here's the PSA: Do yourself a favor this summer and take a night off to catch a beloved film in a real live movie theater. (Rooftop screening options under the stars? Even better). It's a primo opportunity to completely break from the real world for a few hours and recapture the experience of seeing it for the first time. Colors will pop; spoken dialogue will ring; soundtrack music will burst. Trust: Seeing classics like The Godfather, Dirty Dancing, E.T. and Clueless unspool in a larger than life medium is not the same as watching it on a tiny TV while perusing your Insta feed. (I've seen all of the above movies on a big screen in the past three months alone.)
One last note: This not to say streaming services don't have merit. The first thing I did in my hotel room after watching the Kubrick doc? Queue up Eyes Wide Shut on Netflix.
---
Also published on Medium.