'Wind River' Review: Jeremy Renner, Elizabeth Olsen Star in Tense Thriller
Published on August 1, 2017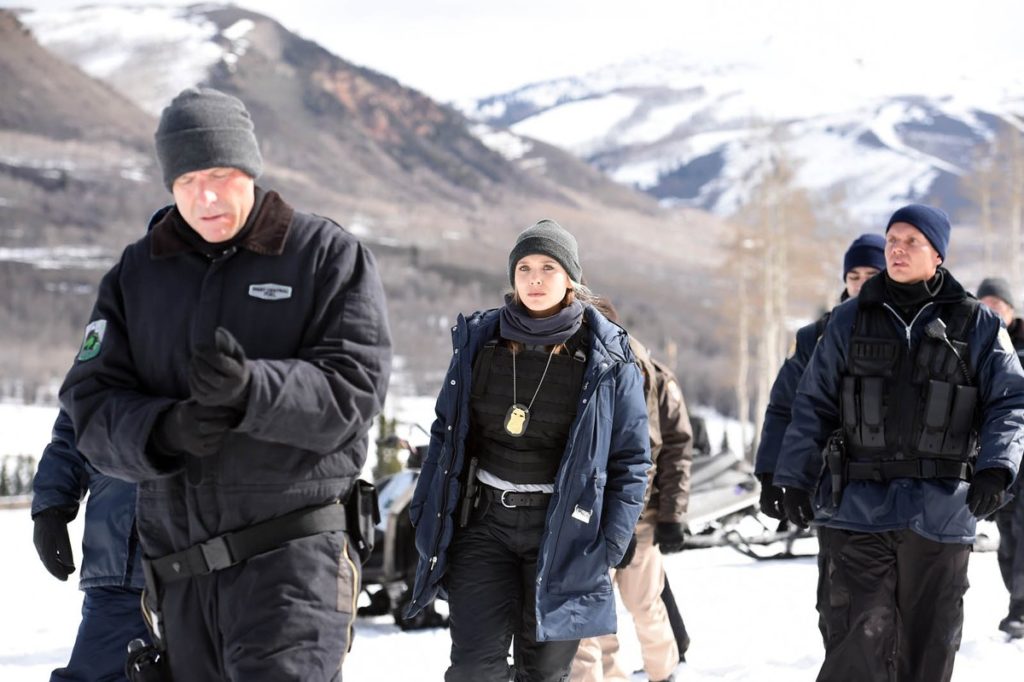 Deep in the frozen tundra of a Wyoming Native American reservation, a teen girl's body is found bloodied and barefoot in the snow. What happened and how did she get there? That's the simple premise behind Wind River. A somber yet riveting thriller, the film simmers with tension amid a stinging and unforgiving backdrop.
This is the work of Taylor Sheridan, the acclaimed screenwriter of Sicario and Best Picture nominee Hell or High Water. He also directs for the first time. A former Sons of Anarchy actor (who knew?), he prefers to tell plaintive American stories without letting the dialogue do the talking. He puts just as much effort in establishing open spaces that lend to suffocating drama. I've never met Sheridan; I can only assume he'd give me a firm handshake, stare me down and then choose his words. He's an auteur in the making.
He also has a penchant for writing men who are the strong, silent types. Enter
Jeremy Renner
's Cory Lambert. In the opening scene, he nonchalantly dispatches a pack of wolves with his rifle. Working for the U.S. Fish & Wildlife, he's paid to kill four-legged threats. His job skills take on new meaning when he discovers the girl's lifeless body. Something horrible must have happened. There's evidence of rape; and she died as a result of her lungs filling up with blood. He takes a special interest in this case — the girl was his daughter's friend; she too died young.
Cory's going to need some help, and he gets it when a rookie FBI agent (Elizabeth Olsen) arrives from Las Vegas. Yes, the desert. (Cut to the film's only guffaw.) If she seems unconvincing, that's what Sheridan intended . . .the same way that Emily Blunt's character was out of her element investigating the drug cartel in Sicario. Renner and Olsen can pay the bills thanks to the Avengers movies; here, they get to work together and act heroically without all those wonderful toys. Still, it would be nice if Sheridan wrote his leading ladies with more of a Charlize Theron-style of self-assured bad ass-ery.
The narrative is a mix of gripping whodunit and a noir Western revenge tale in which horses are replaced by snow mobiles. For dramatic effect, we even witness a vivid (and violent) 10-person Mexican standoff. (
A Quentin Tarantino homage
?!) Renner is the cowboy loner beset by tragedy in his life. He movingly shares the tragedy with Olsen in a scene that is one of the most effective in his entire career. The villain? I won't give it away only to say that he's more over-the-top caricature than character.
Forget about a shocking third-act twist. There was grim silence in the theater during the film's premiere at the Sundance Film Festival. You'll get tidy answers — but, more important, you'll get insight into a stark setting where nothing is tidy. There's racial tension between whites and Native Americas, and all the residents struggle economically. Everyone living on the reservation is reclusive and troubled for a reason, perhaps wishing they could skate away. Their collective mood is as grey as the wide-open skies. And yet, their grittiness endures. Wind River isn't the most dynamic or shiniest movie of the year, not even close. But it will literally chill you to the bone without leaving you cold.
(Wind River opens Friday, August 4)
---
Also published on Medium.
Rating: